Dallas-Fort Worth is going through a phase.
The region - one of the most popular data center locations in the US - is suffering from both a glut of capacity, and a dearth of absorption. This perfect storm is likely just an anomaly, real estate company CBRE told DCD, but while it lasts it's a buyer's market.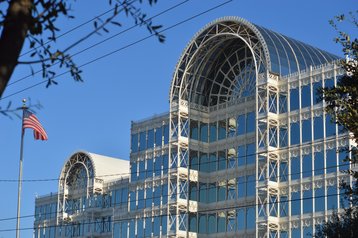 A matter of absorption
The company, which releases regular reports on the US data center industry, said that Dallas-Fort Worth "hit a lull in the first half of 2019."
Haynes Strader, CBRE senior associate of data center solutions, told DCD: "Right now, we're tracking about 68MW of wholesale colocation space that's available."
When you take out 'Class B space,' older space that's unlikely to be leased, "that number drops to about 49.8MW," Strader said.
In a typical year, the market generally absorbs about 40MW. "The issue that we're having is that Dallas is probably going to have a slower than average year," Strader added. "We've currently done about 11.2MW of leasing absorption in the first half of 2019," a number which rises to around 17MW when you factor in deals that have been done but aren't currently live - still far short of 40MW.
"So we've got a long way to go to get to a healthier absorption that would balance supply."
Brant Bernet, CBRE's SVP of data center solutions, concurred: "Historically for the last five years we've done that 40MW of positive absorption. And we typically build about 40MW of data center space a year. So the market's been in parity.
"What happened this year, is that not only are we having a weird, slow year in the Dallas market for some reason, [but we also] built 49-50MW of brand new space. Both sides of the pendulum went the wrong way."
To understand how things got out of whack, we need to look at Dallas a few years back. "There were only one, two or three - depending on what time period we're talking about - options available in the market," Chris Herrmann, SVP of data center solutions at CBRE, told DCD.
"A lot of the bigger names were not here, and I think a lot of them have said 'we're not going to make that mistake again.' So there's been a lot of building from a number of different providers in our market over the last couple of years."
The problem with new campuses, built from the ground up, is that they require a lot more work than just expanding a site - and that means a lot more time, something that makes it harder for companies to predict where the market will be when their facilities are completed.
"The initial deployment is the longest lead time item, and it's typically getting power," Strader said. "When you buy a site, you have to get power delivered to the site and often build a substation or have your transformers put in it. And that is usually 12-18 months, sometimes 24, to get the power and the initial building out of the ground.
"What we saw was a lot of initial campuses sprout up all around Dallas over the last two years, and they're struggling because they're all competing to fill those anchor tenants."
The good news is that, for many, the hardest part is out of the way. "Once you have a campus environment, we're seeing providers being able to deploy very strategically on their campuses to match demand," Strader said.
More than 400MW of capacity is planned for the area at some point in the future, based on the major colocation providers' capacity at their campuses. But, given the current market conditions, "all of them have pushed" expansions back, Strader said.
"They're all hesitant to say it will be delivered on 'this date.' They're much more eager to say it can be delivered 'within 12 months or six months or 90 days' - for example, QTS has a powered shell that they've built in Irving, but they have delayed turning that into turnkey space."
Should demand pick back up, as CBRE expects it to, most colo providers have capacity to expand rapidly and significantly.
Ready to return to the top
"Dallas, probably more than any other market, doesn't rely on one sector," Bernet said. "It doesn't rely just on high tech, like you might see out in California; it doesn't rely on government, like you might see out in Northern Virginia.
"We're everything from pharmaceutical to insurance to banking. What we always say is it would only take a couple of large deals to completely change the dynamics and balance," he added.
"If there were a couple of companies that took down a couple of the big blocks of colocation space, not built their own like some of the big hyperscalers are doing, we would all of a sudden be back to where we had been in the past, which is this nice parity between supply and demand."
For now, however, that parity remains elusive. That's difficult for colos, and for investors who may have expected faster returns, but it's great for tenants.
Strader, whose team often represents tenants, said that they are currently looking to place 1MW for a client. "There's so many different operators, about 17 buildings in Dallas can accommodate that requirement.
"It's a great problem to have as a tenant, it means there's lots of options. There's never been a better time to be in Dallas - you have so much leverage as a tenant.
"But if you're a data center provider, that's a scary notion right now."