How much do you know about Yandex? You might be vaguely aware it's a technology company hailing from Russia, but to anyone living in one of the former Soviet Socialist republics, Yandex is a household name.
It started in 1997 as an online search engine and gradually developed a wide range of services including image search, video hosting, cloud storage, navigation and machine translation, all backed by an extensive advertising network. If that sounds familiar, you will not be surprised to learn that some commentators have started calling Yandex 'the Russian Google.'
But according to Yan Leshinsky, chief 'cloud-keeper' at Yandex, this comparison does the company a disservice: "Yandex went through quite a transformation over the last three years. It's no longer just the Russian Google – it's the Russian Uber, the Russian Amazon and the Russian Spotify. Yandex has developed quite a unique ecosystem of products, primarily for the consumer market – although we also have business services, especially in advertising."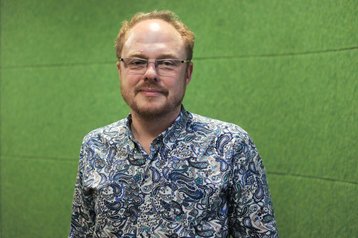 Right place, right time
Yandex offers its own web browser (based on the Chromium project), its own digital personal assistant (Alice), its own self-driving car fleet (with street trials this year), and now – its own public cloud service.
"Over the past 20 years, Yandex has accumulated a lot of different technologies, and gained the ability to design, build and maintain world-class data centers. Considering cloud opportunities in Russia, it comes as no surprise that it decided to build a cloud platform, to become the AWS of Russia," Leshinsky told DCD. "There are no native cloud platforms in Russia – it's possible to use any of the big three cloud providers, but all of their capacities are in Europe."
Yandex was born just after the collapse of the Soviet Union, as the country was getting to grips with capitalism. It was a period of great chaos, as government assets found their way into private ownership, often involving a degree of violence along the way. But it was also a period of great opportunity – while some were busy dividing the country's natural resources, others were more interested in harnessing the newly discovered power of the Web.
The initial search service was successful because it was uniquely adapted to the Russian morphology (how words are formed) and could recognize inflection in search queries – providing more accurate results than alternatives, designed to index text in English. The company was also lucky enough to employ cult Russian graphic designer Artemy Lebedev to create its recognizable corporate branding and visual identity – which remains largely unchanged.
Today, Yandex has close to a 60 percent share of the Russian search market. It runs the country's most visited website, seen by 80 million people every month. Yandex Cloud uses the same infrastructure that powers the company's search and analytics services, and is hosted in the same data centers.
"I think it's a good thing – it will let us grow slowly, and avoid making huge capital investments in this growing business. We have the ability to transfer capacity between the main business unit and Yandex Cloud, if we need to – it's a common hardware platform designed by Yandex, and it's flexible enough to be configured to have different storage devices and different amounts of memory."
As for software, the virtual machines are built with the KVM hypervisor – the same technology that currently powers AWS instances. Leshinsky told us that most of the services available on the cloud platform are based on open source software.
"Now, the advantage of a real cloud platform is not just Infrastructure-as-a-service, it's all the additional platform services that let companies reuse the same components, without having to invent them.
"On the infrastructure layer, we are using open source technologies: KVM and its ecosystem for hypervisor, OpenContrail [recently rebranded as Tungsten Fabric] for software-defined networking, and our storage deck is an in-house development. The reason we are not using something like Ceph is because we feel we can build something more efficient, and as a result – more cost-effective."
If it's good enough for us, it's good enough for you
According to Leshinsky, almost everything Yandex puts into the public cloud is derived from the products it uses internally. The notable exception is containers – while selling virtual machines to its customers, Yandex itself actually adopted Kubernetes on bare metal, for increased efficiency. But worry not, he said– a managed Kubernetes service will be available before the end of the year.
"We see three main pillars of the platform: the first is data processing, you can call it 'big data.' That set of services is aimed at storing, processing and visualizing data – some of it is in-house development, some of it is managed versions of open source components. For example, Yandex Cloud offers three databases: Postgress, MongoDB and ClickHouse – the latter was developed at Yandex and open-sourced.
"The second pillar is artificial intelligence services – this is already part of the platform. We have released voice-based technologies like text-to-speech, voice recognition and translation. In the second phase on our roadmap, we will release vision-related services.
"The third pillar is the developer's platform. This would offer services for developers and system administrators, to let them quickly create applications on Yandex Cloud, monitor and maintain them. We will have our own application lifecycle management service as well."
Leshinsky said the cloud business already has around 100 corporate customers. Most of these are Russian companies – but the service is aimed at any business with presence in the country.
"We will go after enterprise companies directly, and we will have a self-service portal for smaller companies that want to consume and manage cloud resources themselves. We also have a large partner initiative."
Although Yandex owns data centers in Europe, its cloud facilities will, for the time being, remain within Russia – due in part to the country's strict data residency regulations, passed in 2015. In accordance with Federal Law No. 242-FZ, foreign businesses that handle the personal data of Russian citizens have to keep this data on servers located in the country. This doesn't mean that international expansion is out of the question, but if Yandex Cloud does venture abroad, it will appear in locations we least expect.
"We're younger and smaller than dominant international players, but we do see that there are some markets that are priority for dominant players, and other markets are underserved – and these would be the markets we target first. For example, we will not expand into the US or Western Europe, but Eastern Europe, Middle-East, Far East or South America are the markets we are considering. It's still early days."
But what about politics? In the US, Russian hackers are accused of meddling in presidential elections; in the UK, Russian spies are accused of poisoning former Russian spies on British soil. International economic sanctions against the country, imposed over the conflict in Ukraine, are still in place. None of this bothers Yandex – a company that is widely considered to have maintained its independence from the frequently overbearing Russian state.
"With regards to the current situation, I don't think this is hurting us or helping us in any way. Our biggest advantage is that we are local, that we are investing here, and Yandex is a recognized and respected brand. We understand how to provide good customer service. When we will start international expansion, we will consider the political situation in whatever jurisdiction we are choosing to operate in.
"The legend of Russian hackers is based on the good quality of software engineering in Russia – and Yandex gets great software engineers, so we are definitely taking advantage of that."
This article appeared in the October/November issue of DCD magazine. Subscribe for free today