Equinix is no stranger to the data center hub of Singapore, where it has been operating since 2002. In the intervening two decades, it has steadily grown its portfolio of data centers in the island state to five facilities, with the newest launched just last year.
Constructed with an initial investment of $144 million, and opened in August 2022, the nine-story SG5 is the tallest data center in Singapore - at least until Facebook's mammoth 11-story facility goes live, virtually next door.
Even when the Facebook tower opens, SG5 will still be the tallest multi-tenant facility in the data center-dense nation, where data centers consume a staggering seven percent of the available electrical power.
This feature appeared in the APAC Supplement. Read the rest for free today.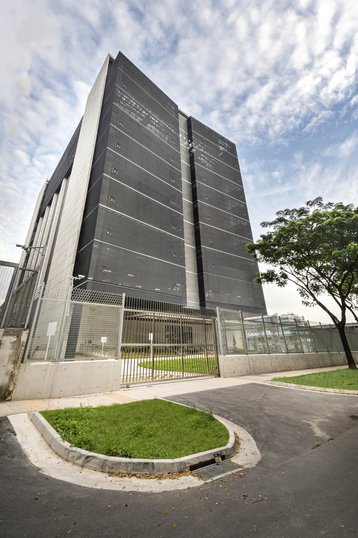 Why SG5 matters
SG5 is noteworthy for more than its height. It's Equinix's fifth data center in Singapore, but only its second greenfield facility here. Its first greenfield, SG3, launched in 2015, and there are clear differences between the two.
It would be interesting to see how Equinix would design a data center for a tropical, land-scarce location if it started on a new project today.
Another significant fact about SG5 is it was approved before a moratorium on new data centers in 2019. Though the moratorium was lifted this year, new data centers will now be subject to a raft of guidelines around PUE and innovation around energy use. Though the rules are still being ironed out, it is safe to say that future data centers will be quite different.
An exploration of SG5 won't be complete without an overview of the other Equinix data centers in the country. Equinix claims that it hosts the most network-dense data centers in Singapore, housing many of the international and regional networks connecting South Asia.
Much of this can probably be traced to Equinix's SG1 data center at Ayer Rajah Crescent, which houses its Asia-Pacific Network Operation Center (NOC) and is often anonymized with the tag of "carrier hotel" on the presentation decks of local telecommunication providers and competitors alike.
Though SG1 is old in data center terms, it is supported by fiber optic connectivity that goes under a driveway to the larger, purpose-built SG3 right next door. Crucially, all Equinix data centers are part of an island-spanning metropolitan area network, built using a ring topology for protection against a single point of failure.
Inside Equinix SG5
DCD was invited to visit SG5 last year, as Covid restrictions eased in Singapore and shortly after its official launch. Located in the Tanjong Kling data center park at Sunview Drive, the new facility is right across the street from Facebook's upcoming data center and adjacent to Telecom Indonesia's Telin 3, which we toured in 2016.
SG5's location in a data center park allowed designers to incorporate features to enhance reliability and security, such as its three fiber paths for diverse connectivity. And like all new data centers in Singapore, the building is compliant with the Threat and Vulnerability Risk Assessment (TVRA) guidelines from the Monetary Authority of Singapore (MAS).
The compound is fronted by a standalone security building at the entrance for security personnel to verify the identities of visitors. There is a small private car park in front of the building, which you cross to enter the building.
According to Equinix, the first phase saw SG5 offering an initial capacity of 1,300 cabinets, which was recently expanded to 2,950 cabinets. When fully built, SG5 will hold 5,000 cabinets. Data halls are located between the ground level and the roof at level nine, giving it seven floors worth of data halls.
The facility is powered by dual redundant 66kV power feeds, supplied from dedicated substations built to serve the data center park. It is understood that level 2 through to level 4 offers 21MW of power in total, while the next four levels are designed to support up to 3MW per floor.
Sophisticated design
SG5 was clearly designed to maximize every inch of its compound: Backup generators and high-efficiency water-cooled chillers are installed on the roof, which comes with upper and lower levels. The diesel fuel for powering the backup generators is stored underground, while backup power is supplied from lithium-ion UPS – which have a smaller footprint than traditional lead-acid batteries.
Things get interesting inside the data halls: each of the two data halls on each level is cooled with a fan wall, which Equinix calls the Equinix Cooling Array. These take up the entire length of each data hall and are positioned as part of a hot-aisle and cold-aisle deployment.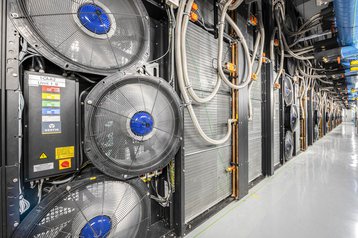 In addition, Equinix has eschewed a raised floor design altogether, which together with a slab-to-slab height of 6.5m presumably allowed for more floors within the building's height restriction without compromising its ability to support tall racks.
Equinix says its Equinix Cooling Array supports high-density customers whilst reducing water and power consumption needs. But though there is no question that this is optimal for hyperscalers which tend to roll out more standardized systems, the downside is the need for more careful planning and allocation of space for smaller colocation customers.
The shape of things to come
Unlike SG4 which was converted from a warehouse, the foundation of SG5 was designed from the very beginning to be a data center, which means its space, height, and various technical specifications are optimized, says Yee May Leong, the managing director of South Asia at Equinix.
When asked about the Equinix Cooling Array, Leong noted that it was an example of a creation that came out of Equinix's sustainability research. She added: "We are constantly looking at our design and construction to review how we can build it faster, more efficiently, [and with higher] energy savings."
Indeed, Equinix has had its eyes on sustainability for a while now and had previously revealed that it has operated with 100 percent renewable energy in Singapore since 2020. Leong was eager to highlight the value that data centers bring to today's digital economy in general, though she also emphasized that not all data centers are the same, drawing a distinction between hyperscale facilities operated by a single provider and retail colocation providers.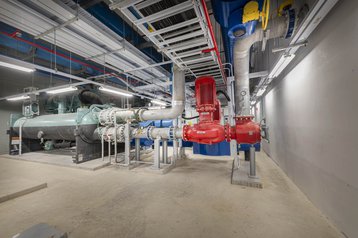 In that vein, Leong sees Equinix's mission as an "everyday retail data center" to power the digital ecosystems and essential services.
"[Given the moratorium], we are very strategic in terms of the customers we want. We want to ensure that these are customers that will help continue to enable the digital economy, [that they are not here] just for colocation, but [are here to] interconnect to our clouds, interconnect to our business partners, interconnect to the network and the different enterprises," she said.
The moratorium has since been officially lifted, but the restrictions mean that Leong's words are probably just as true now.