Data center operators have trouble recruiting staff - and the problem will get more critical in the future as an aging population comes up for retirement. It seems there aren't enough people with the skills and abilities needed to build and maintain facilities.
One answer to this could come from an unexpected talent pool. Salute Inc believes that military veterans could fill the gap.
The organization was established by Lee Kirby, who is also president of the Uptime Institute. It was inspired by his own experiences in the civilian data center sector - and in the Army. For many years, Kirby was a reservist, while also working in the technology industry. After 9/11, he got called up and served in Iraq, Afghanistan and Haiti.
In 2012, Kirby retired as a Colonel, with more than ten years of active duty.
When he retired, he noticed something: "I saw a lot of colleagues who served, lost their jobs and livelihood because of it. When I retired, young troops who had served four years, were suffering a greater than 20 percent unemployment rate - because of their service."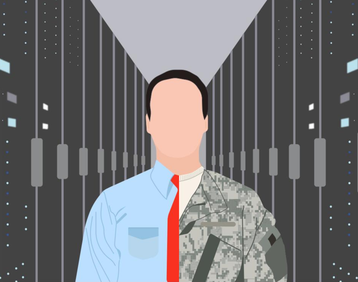 Call in the troops
Military personnel have skills and attributes that ought to readily transfer to the business world, and be particularly useful in engineering projects in the data center industry, he reasoned. They know how to operate in teams, often far from home, relying on equipment they maintain themselves.
There was one obstacle: "People won't hire you without experience." And some of those veterans are at a low ebb: "Twelve percent of veterans are homeless, when we hire them," Kirby pointed out.
Despite the practical difficulties, Kirby believed he had potential employees, and access to training that could get people into a job: "I can take an infantryman or a military police officer, and in two years they'll be a data center technician."
Five years later, Salute has got over 200 veterans into projects. It's not a charity: it wins contracts and hires staff to fulfill them. If it operated as a charity, its employees wouldn't get competitive experience, and the organization would have to focus on getting grants.
"From the client's point of view, they have a project like installing a hot aisle or a cold aisle," he explained. "We compete and win it, then put our guys on the project."
Salute can win those deals, he said, because it's upfront that its staff may have less experience, but they have proven reliability. To win business, Salute has to win trust.
About half of Salute's business is project-based, and some involves providing visible people on-site - perhaps multi-functional staff combining network operations center (NOC) duties with security guard work: "A lot of sites don't need an engineer but someone reliable."
Unlike comparable firms, Salute does not focus on staff retention. It aims to be a stepping stone for its recruits, and welcomes their departure as they move up the employment ladder. "Salute is not a career path," Kirby said. "We expect 25 to 30 percent attrition each year. We are putting people into jobs."
Some Salute alumni remain on board as the leadership team, while others out in the industry remain friends, he said.
Skilled operators
Service men and women with tours of duty under their belts are well suited to remote projects, where they operate semi-autonomously: "Take a typical infantry man. He maintains a weapon, a vehicle and a communications system. He must operate with local people, work around dangerous equipment, and deal with the unexpected.
"There is no civilian training or experience that can equal that," Kirby said. "They adapt and train quickly, and communication and coordination are bred into them."
He admits there may be downsides. Veterans may have post-traumatic stress disorder (PTSD), but they aren't alone in that: "Statistically there's a lot of issues in the 'normal' human race - and veterans have programs for PTSD. I was injured and I know what it is to get that trauma - but also what it is to get support."
The proportion of veterans with problematic PTSD may be lower than the proportion in the whole population, and Salute has become adept at handling those with difficulties, while keeping the organization healthy, he said.
Salute operates in the US, and has expanded into the UK, Ireland and The Netherlands. Beyond that, it could operate in an advisory role in other countries: traveling in China, Kirby was asked for advice about a local chapter of Salute, but said projects in places like Russia or China should be run by local veterans: "I think every country could do this, and Salute would do best where we've been allies."
Despite the usual media cliché, 15 percent of veterans are female, so Salute can help address a missing source of talent which is under-represented in the industry. It could also cast its net wider, and work with another untapped resource: military partners. "We have started to encourage military spouses," he said, and Salute's clients are interested. "Military spouses have project management experience. It's very hard to teach someone to multitask like a spouse has to when their partner is deployed."
Salute doesn't plan for meteoric growth. "We don't plan to do an IPO, we are trying to do a sustainable business in the industry," Kirby said. But the initiative may bring in capital partners in the future.
Kirby's main goal is to provide a steady opportunity to people who have already paid their dues. "They did their service, and have come back. All they need is a chance. They are not looking for handouts."
This article appeared in the April/May issue of DCD Magazine. Subscribe to the digital and print editions here: