Norway's most populated city Oslo is the hub of the country's government and industry. It's also the home of SpareBank 1, and alliance of banking, insurance and holding companies, which recently upgraded its data center.
With 15 independent banks and 6,300 employees, SpareBank 1 is Norway's second largest bank alliance. Its members collaborate on IT, including data center operations, through SpareBank 1 Gruppen (SpareBank 1 Group), based in Oslo.
A few years ago, SpareBank 1 set out to modernize its data center infrastructure, paying special attention to security and efficiency. The two-year process would include the design, development and implementation of a highly-tailored data center, built with special attention to the possibility of collateral risk.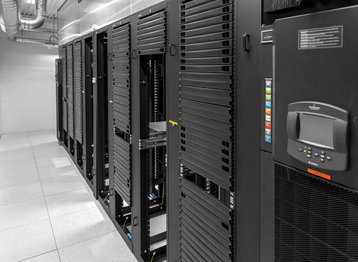 Previously, SpareBank 1 had split its systems between two facilities, separated by a single street, but reconsidered this after a close call in 2011, when a lone wolf terrorist group exploded a car bomb in Oslo's government quarter. SpareBank 1 was not hit by the blast, but other organizations faced collapsing walls, shattered windows, fires and flying debris. Citizens and officials had to face the uncertainty of knowing that their vital data and records had been compromised and possibly even lost forever in the blast.
Realizing that such a blast could take out both its data center facilities, the alliance determined not to have both facilities in such close proximity.
SpareBank 1's tech leaders also had to deal with the fact that increasing IT demands were stressing the alliance's ageing data centers, particularly by increasing their heat loads. The alliance needed new ways to cool the equipment and maintain the continuity of operations. The alliance considered three options: 
upgrading one of the two existing data centers,
contracting a colocation provider from the open market, or
building a new data center on-site.
As a first step in reducing risk, SpareBank 1 contracted a colocation site in 2011-2012. To function as a banking hub, the alliance meeded to own a data center in its own central location so it formed plans to build a new center on-site in its existing Oslo office buildings. 
The group had five different tenders from data center solution companies, and picked Coromatic AS, a partner with experience on similar projects. Construction began in the summer of 2013.
SpareBank 1 now has an improved data center which supports the 1,000 people located in its building, as well as 6,300 employees at 352 SpareBank 1 branches across Norway. The data center also supports online banking and insurance systems for the alliance's 1.9 million customers. 
Finding space 
One of the top challenges of the project was finding an appropriately sized location for the data center: "We were very lucky to find the 84 square meters of space to use for this purpose," said Nora Midtsund, IT project manager for the group. 
"It's always a challenge when you have to make adjustments in an existing building. We know you have to find solutions and compromise," said Magnus Askautrud, business development manager at Coromatic. Developing and executing a project of this size in a unique space would be quite a challenge. "They said, 'Give us the best technical solution. We need 28 racks and better cooling to support the equipment.'"
Coromatic teamed up with data center product manufacturer Chatsworth Products (CPI), and the two companies used an open architecture design to create a layout that would support hot aisle containment while saving space.
Once they determined that the infrastructure would fit into the area provided, they then faced planning a project where assembly was challenging. Because of space limitations, a pre-configured system was not an option and that the data center would have to be assembled on the spot. They called this method the "Lego Approach" because it required each part to be taken in and assembled piece by piece like a Lego set.
"If you have a cabinet that's 1,200 mm deep and you go down to 750 mm deep, after two rows, you get a row for free!" said Magnus Lundberg, CPI's regional sales manager for Northern Europe. With CPI's four-post and two-post racks and Evolution cable management, it was possible to do without cabinet doors, a concept which is widely used in the US, but still not universal in Europe. This saves space, allows better cable management, and makes equipment more accessible.
"Changes were being done while we were building, so this solution gave us the flexibility to make adjustments as we went," stated Askautrud. "It's very fast finding different solutions such as blanking panels."
Getting the right PUE 
SpareBank 1 needed a data center that could accommodate 200 kW of power and cooling, and decided that hot aisle containment (HAC) and passive cooling would help it reach a power usage effectiveness (PUE) of 1.3. 
The room had to accommodate equipment from different manufacturers including Cisco switches, HP servers, back-up systems and telecom equipment: "The challenge is planning with several different types of equipment. And when you have a room planned and designed, the server and switch manufacturers often come out with new product designs that can mess up your airflow," commented Lundberg. "However, you can eliminate this problem because everything is possible when you work with a ducted system."
Staff at the alliance even reckon the system is aesthetically pleasing: "The CPI products look very nice and are very efficient when it comes to the space. The cable management products give us a lot of room for cabling in a situation when everything is very tight," stated the head of SpareBank 1's network department, Pål Blomkvist.
Information for this article was provided by Chatsworth Products. Edited by Peter Judge