There's a throughline to my conversation with Don Schopp, as we toured NTT Global Data Centers' VA3 facility in Ashburn, Virginia. NTT GDC is ready to play in the big leagues
Schopp joined RagingWire as a senior national account manager way back in 2012. "We were a family-owned privately held company, in just one market with two buildings," he recalled. A year later, the Japanese telecoms giant NTT took a large stake in the company, but remained mostly hands off.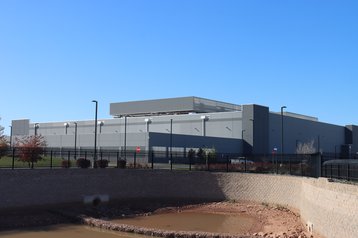 "We were only so relevant," Schopp said. By 2017, NTT said it would buy the whole business, but its involvement was still limited. At the same time, it acquired India-based NetMagic, UK-based Gyron, Europe's e-shelter, and South Africa-based-Dimension Data, while NTT built out its own data centers in Malaysia, Japan, and elsewhere.
It took until 2019 for NTT to mix the different companies together, under the brand name of NTT GDC, and still a few more years for the disparate businesses to work together under one corporate culture and a primary design template.
This feature appeared in the latest issue of the DCD Magazine. Read it for free today.
"We've arrived," Schopp, now VP of strategic growth & channel sales, said several times as we walked through the facility. "We're at over a gigawatt across our global portfolio. I don't know how many people are really today running a data center business at that scale."
There are obviously two competitors that blow that number out of the water - Equinix and Digital Realty.
"When you look at NTT globally, we're getting to that level," Schopp argued. "We're in 30 different countries, and we're growing... we're looking at Nairobi, Cape Town. Warsaw, Milan, Ho Chi Mihn, Singapore, and more."
The company has its roots in Asia, where it has a huge presence, but "we're now entering the main stage in the Americas," he said.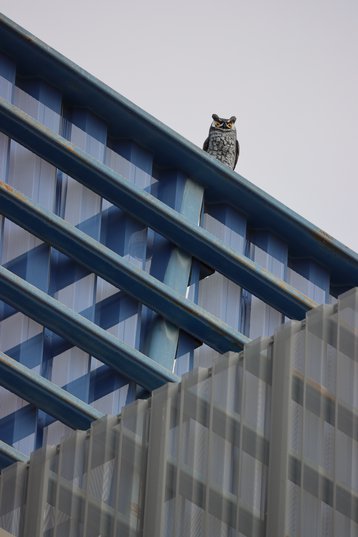 "What our construction plans in the United States are right now over the next two years will double what we currently have under operations today," he said. "It took all of that time to get to this point. And the next two years will beat that."
Currently, its 'Americas' business just means the United States, "but expect the Americas to include Canada and South America," Schopp said. "And then there are second-tier markets like Nashville, Austin, Charlotte, Miami, Montreal, Toronto, Salt Lake, and Denver that we are looking at."
Crucially, while its ambitions are still dwarfed by the industry's two giants, Schopp noted that "NTT is way bigger than them, bigger than IBM, bigger than Bank of America bigger than Cisco. It's a huge company, but 80 percent of its business is in Japan, and we're part of the global business."
Being tied to a wider business can have its positives and negatives. It could mean being tied to a slower business, and lost in the shuffle of more profitable ventures, but Schopp argues that it means access to a global customer base and lots of money.
"What you'll see out of us over the next few years is billions and billions poured into the US and globally to construct data centers," he said.
That has required a maturation of its business proposition, as it pursues larger customers like the hyperscalers.
"We're building and attracting more clients who want powered shell or want to take down an entire server room or an entire building," he said. "We even build to suit for them, and that's not necessarily was what we were known for, but we're now competing against the heavyweights."
The shift is part of the company's evolution, Schopp said. "We came into this market as a colo company, and started moving upstream to bigger single tenants, so building design data centers that are fit for those clients."
Currently, hyperscalers are "small potatoes" as a percentage of NTT GDC's customer base, but it hopes to increase their presence in the years to come. "But we'll never get away from our heritage, because we'll offer colocation down to the single cabinet," Schopp said. "Not in every building and every market around the world, but where it makes sense."
It's also had to improve on how it builds data centers with a standardized design, and how it handles its supply chain. "I would say that we've gotten a lot better than what we were as RagingWire," Schopp said.
"Part of that is to admit that we had to improve, and then the other part was bringing people in to do something about it. Brittany Miller [previously of Microsoft], leads our construction and a lot of people from Facebook and Google are now part of the NTT family."
The other part is its vendor-managed inventory. "On our newer sites we have a standard build, and we can ship the same products to different data centers," Schopp said. "Before, we were kind of a wannabe on pre-builds and supply chains," he admitted.
"Companies like Compass were out in front of us, and they paved the way that we follow. Now we're doing that too, and I think that's also helped us secure more of those large-scale deals.
"The people on the other end of the table would ask the same question that you were - 'how do I know you're predictable?' Well, we have the capital source, the design, and we have this vendor-managed just-in-time inventory."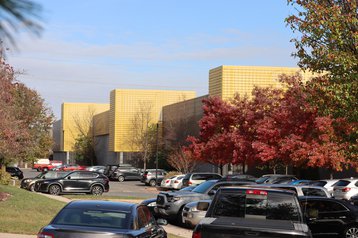 The facility we toured was mid-way through NTT GDC's transformation, representing 16MW of critical IT load out of its 224MW Ashburn data center campus. With 112,000 square feet (10,400 sq m) of data floor space, it is larger than its new standard design that spans 21,000 square feet and 6MW.
Uniquely, this site also has a huge amount of space given over to a large open staircase, conference-like center, and offices.
"We thought it would be nice to have people in here, a conference room, a NOC, and all that," Schopp said. "That's really changed in this era."
That space isn't used as much as it was pre-pandemic, but it still isn't worth knocking it down for more data hall space, Schopp said.
With Loudoun's space at a premium and hard to find, NTT GDC is looking to Prince William County as its next Virginia buildout.
This June, the company said that it had purchased nearly 104 acres in the county to develop a 336MW data center campus in PWC. A month later, utility Dominion said that it wouldn't be able to provide power to new builds in Loudoun.
"People were like 'what did you know?' but we were just a little bit fortunate in that," Schopp said. "We tried many times to get land and were unsuccessful and then we finally got land."