The trend in data center construction has been to construct an entirely new building, designed to meet all kinds of demands, like maximum power and air conditioning efficiency. But alongside these greenfield developments, there have been some creative exceptions to the rule: old, abandoned structures which are given a new, modern life.
Over the last few years, there has been an effort to convert abandoned buildings in densely populated urban areas into data centers. This flies in the face of the strategy of hyperscalers like Google, Microsoft, and Facebook, who place their data centers far from anything, but close to a renewable energy source, usually hydroelectric power.
This feature appeared in the March issue of DCD Magazine. Subscribe for free today.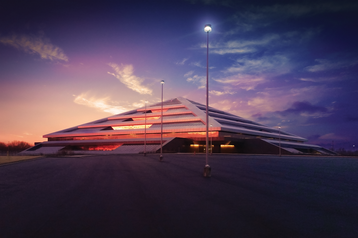 A new life
In recent years, we have seen abandoned malls, prisons, coal-fired electricity plants, and other power plants gutted and reborn as modern data centers. In Barcelona, Spain, the abandoned Torre Girona church now houses three supercomputers, including the MareNostrum machine, a joint venture between IBM and the Spanish government. The old brick walls and solid floors and roof are about the only thing left.
Another iconic site, the Steelcase Pyramid in Michigan, was built in 1989 as a prestige research center for the eponymous office equipment company. It was sold off in 2010, before being bought by Switch and turned into a data center.
A high-concept design, the Pionen facility in Stockholm, was originally a nuclear bunker, before colocation provider Bahnhof rebuilt it as a James Bond villain's lair.
Sometimes conversions are done by REITs, or real estate investment trusts. companies that own or finance income-producing real estate across a range of property sectors. Most data center REITs like Equinix and Digital Realty Trust prefer to build their own facilities but some prefer to acquire old properties and convert them.
One of the most famous conversions is the former Sun-Times printing facility in downtown Chicago, which was abandoned in 2011. In 2014, QTS Realty Trust took on the task of converting the old building into a modern data center.
QTS made out well, it paid $18 million for the 30-acre site, which included a huge power substation. "That electrical infrastructure is very expensive. The substation is worth more than we paid for the property and business, so it's a good investment from a business standpoint," said Travis Wright, vice president for energy and sustainability at QTS.
It also gave QTS a chance to be good citizens, recycling one million pounds of plastic and metal rather than sending it to a landfill, and earning goodwill with the city. "Local government loves you because you take an icon in the city, like the Chicago Sun-Times building and you're able to save this asset that's been looked upon fondly for the last forty years," said Wright.
Getting into tight spaces
There are multiple advantages to buying an old building. Land in places like downtown New York, Chicago, Atlanta, or Dallas is usually at a premium. There are other reasons as well. "It is the absolute truth our customers want us to be close to where their office is. All too often they are in an urban area and they want a data center nearby. And it puts you in an area where there is access to power and fiber," said Wright.
Fiber can actually be a bigger challenge than power. "You would want multiple providers near you. You can get land cheaper in the country but you may not be able to convince telcos to run fiber out there, so to get the maximum number of networks, they try to be closer to a city center," said Kelly Morgan, research vice president for services at 451 Research.
Oftentimes companies will sell their data center and leaseback a component or piece of that data center, which helps justify reentry into that building, said Doug Hollidge, a partner with data center provider Five 9s.
"As enterprises are transitioning workloads to the cloud, they are consolidating their fleet of data centers or selling them. The site selection process is similar, with power and fiber connectivity being the most important consideration.
One example he cited was the Chicago Mercantile Exchange, which sold its 400,000 square foot data center to CyrusOne, a data center REIT, then leased back a portion of it. This allowed CME to get out of owning the building and allowed CyrusOne to enter the Chicago market quickly.
Caveat emptor
Some buildings are better suited for that reuse than others, notes John Sasser, senior vice president of data center operations with data center builder Sabey.
"A lot of multistory facilities don't have the structure for a good data center. You often have low clear heights on an office or school. Data centers have to have walls at least 20 feet in height. It's for cabling that goes around the cabinets, but mostly it's for airflow. The more space you have for air to move the more efficient it will move so that's better for air energy," he said.
Like QTS, Sabey often guts an old building down to the walls. "They might be able to leverage some offices but for the data halls and data rooms it's most likely a gut and refinish. I can't think of any conversion where you wouldn't be ripping out the old infrastructure and putting it in new for a data center build," he said.
Morgan thinks the real challenge is the size of the walls and doors. "I've heard all kinds of stories about the hassles companies went through to get the equipment inside," she said. "The main thing about the structure is the computer equipment is real heavy and some are real big, so you need a really strong building, especially if you are going to have multiple stories."
For QTS, Wright said the criteria for selecting a building are high clear spans with wide openings, so you don't want columns breaking up floor space; floor capacity to support load 300 to 400 pounds per square foot; and of course, access to power and fiber. In some regions there are extra concerns, like in Texas, where a building has to be able to withstand a Category 3 tornado.
Are more conversions coming?
Will the trend continue? Opinions are mixed on the subject.
"I think you'll see more of it," said Morgan. "As you have this trend of Edge data centers, storing data from IoT devices, you will have more of a need for storing data where lots of people are, and processing data close to where people are generating it. So you are going to need more storage in urban locations."
"We don't see as much of that as we used to," said Hollidge. "Many big data center REITs are building ground-up data centers. A lot of these new data centers are very state of the art and advanced. It's harder to transition an older facility to today's technically advanced facilities."
Wright notes QTS has only done four of what it calls "brownfield conversions," brown as opposed to green because the land is already developed. "We're going to be where customers want to be. My guess is it decelerates because the number of available properties that fit the scope of data centers - bigger, more powerful, and more dense - it's rare to find something that works," he said.