Data centers are developing rapidly in the African continent, but don't expect them to follow the same path they have taken in the rest of the world.
Africa is a different environment, and a diverse one, where different nations' economies are developing rapidly - and at different rates.
More importantly, the African nations are starting from a different place to the rest of the world. They are developing their digital infrastructure using today's tools, while other nations got on board when technology was at an earlier stage of development.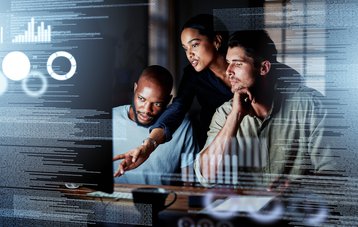 Africa has to play catch-up, but it can also play leapfrog - getting ahead of the rest of the world by skipping whole generations of technology.
Influx of money
For outside investors, Africa is a new territory, where finance is needed for new projects.
"Based on the critical need for infrastructure in Africa, we've seen a heightened focus and interest within the continent," said Colm Shorten, senior director of data centers at JLL, at a recent DCW conference panel." From some of the recent announcements we've seen, there's now between $2 to $5 billion of investment being targeted in Africa."
Part of the acceleration is down to Covid: "Post pandemic, over an 18-month period, we've seen more investment in the last 18 months than we had in the previous 18 years," says Shorten.
DCD has been told there is a desperate need for digital infrastructure across the continent. For instance, in early 2021, the Africa Data Centres Association told us that Africa needs 700 data centers totaling 1,000MW, to enable the spread of digital services across the continent.
But not everyone agrees. Funke Opeke, founder and CEO of Nigeria's MainOne, is skeptical: "Is there a shortage of data centers? Is a demand being presented locally and then the data centers aren't being built to satisfy it? Have global players decided they don't want that footprint for their global platforms?"
She believes that a more realistic reason data centers have been slow to appear is that demand has been lacking: "Part of what drives this is the volume of use, otherwise every country globally would have its own large data stores for its population. With costs and the economies of scale, we know that's not feasible, so you have to work with what technology has to offer."
She says: "I don't see a shortage. But I would say, as the continent reaches a critical mass in terms of data consumption and the digital transformation of society, more is being done. You will see more data centers being built to meet these requirements. But I don't think the demand has previously presented itself locally, and has not been satisfied. I think there just was not enough demand "
MainOne has some 5MW of capacity live at the moment. Other providers including 21st Century and Rack Center have similar amounts
These are figures which make Nigeria ripe for expansion, she agrees: "From a digital services perspective, Africa represents one of the untapped growth markets for International players. If you look at the number of unconnected people who are just coming online, the growth of 4G and smartphones, the size of the population and the amount of data they are consuming per capita, we recognize there's still a lot of growth in the African markets, and I think that's what the global players are paying attention to."
And she agrees that Covid has sped things up: "Everybody here did the pivot to working from home, with endless conference calls, and changing how we travel. I think some of those things have come to stay."
North-south divide
In the past, there was an extreme digital divide between South Africa and the rest of the continent, but that is improving as other hubs develop.
Right now, South Africa has the lion's share of capacity: "South Africa is probably two-thirds of the capacity of the whole of Africa today, with somewhere north of 150MW," says Shorten.
But even South Africa is under-developed compared with the rest of the world: "In the context of global data center, that is relatively small, even though it is the most advanced African ecosystem from a technology standpoint."
As the whole of Africa develops, the balance will change: "This is no longer just a South Africa conversation. We're moving beyond South Africa. We're looking at other parts of the country, particularly those that are centered around coastal areas, because they have a distinct advantage, in that it's very easy to take the subsea cables which are coming, and which will effectively light up the infrastructure on the continent of Africa."
Funke Opeke thinks South Africa used to be a special case, but no longer: "South Africa was not particularly integrated with the rest of the continent in the apartheid days," she says. Since apartheid ended, that's changed, "but the demographics and the economics are different, although there are also similar challenges in some areas. I think the divide has closed somewhat, and I think it will continue to get better."
One tangible sign of this is that South Africa is no longer the first foothold for companies moving into Africa, she says: "As technology has developed, other hubs have grown. South Africa is not necessarily the first place that a multinational looking to do business in Africa feels they have to open an office.
"In previous years, that would be the option. If you're going as a multinational to Africa, you've got to open an office in South Africa and see what you can do from there. With technology, there's just a lot more access to different countries. I think the divide between South Africa and the rest of the continent is definitely closer."
For Shorten, there's a lot of interest in North African states: "Egypt has the highest number of submarine cables [see page 50], with connections from Turkey and the Middle East and Africa. Morocco is another key strategic area because of the proximity to Europe."
For smaller countries, like Zambia and Zimbabwe, operators will have to accept that they must start small, as he says: "You have to start somewhere. Nigerian operators, whether it's 21st Century, Rack Centre or MainOne all started small. The journey that they go on is they start from retail, they start small, moving to wholesale, before they begin to address hyperscale cloud."
Nigeria takes the lead
In this context, the most exciting country in Africa is Nigeria, says Shorten: "It has the largest GDP in the continent of Africa. At over $500 billion, it's significantly bigger than South Africa, which has a GDP of around $330 billion. It also has a population of around 211 million, most of them have a young age, who are becoming Internet users with a strong appetite for digital technology."
It's only set to grow. "We're going to have an additional 20 percent of Nigerians going on the Internet in the next three years - and 20 percent of 211 million is a big number."
Against this background, Nigeria is clearly ripe for growth: "When you think about the capacity that's in South Africa, it's heading towards 180 megawatts. Yet today in Nigeria, we only have 8MW." For Shorten, that explains the interest big players are taking in Nigeria.
One of the data center players there, Wale Ajisebutu, CEO at 21st Century Technologies, has a prediction: "Nigeria will become a trillion dollar economy in four years - and what will drive that is data. Nigeria is becoming digitally connected, and more importantly, data-driven."
Unlike Opeke, he sees a shortage: "How do we keep this data without building enough data center to warehouse the data? It is impossible. So we need in the next three, four years, about 200MW of data center capacity."
Ajisebutu is courting hyperscaler players, with the idea of creating large quantities of space for them: "We are the only hyperscaler-ready data center in Nigeria, that is ready to be used, that people can move into today."
Phase 1 of 21st Century's Lekki data center is available, and there are plans for a 36MW campus in Ikeja
Ajisebutu has ambitions to have 17MW of data centers in Nigeria, and this includes smaller facilities: "We're building data centers in every business district" he says "we have Edge data centers that the GSM operators use."
Foreign takeovers
Ajisebutu says that any foreign investor should at least have a local partner: "My recommendation would be, it would be better to partner with Nigerians. But, if you can do it on your own, you're welcome, Nigeria will welcome you."
More often, foreign investors don't come as tenants. Big players from outside the African continent invest in local operators, and make them part of their empire.
Shorten thinks this is often a way to get that local knowledge: "I think you need to strike a balance. When we look at mergers or acquisitions, or purchases, they are predominantly to get access to available network or connectivity, but also to partner with people, to keep it local. Because you do need to have local networking, you need to have local cultural understandings. And you also need to have somebody with a proven track record."
He warns: "I'd say going it alone is probably not wise. But I think using collaboration is probably the best approach."
Opeke knows about the acquisition at firsthand, or course: MainOne is in the process of becoming part of the digital infrastructure behemoth Equinix in a $320m deal.
Joining Equinix is a plus, she says: "There's been a positive reaction. The broader tech community sees more capability in Nigeria and West Africa, which has been a high growth market. Having MainOne in Platform Equinix, we're now able to service that. They'll get bigger and better and faster, and all the latest bells and whistles here. "
The investment should also enable Nigerian businesses to connect outwards: "For the local community there is that excitement about having access to the global platform that Equinix brings. It is going to deepen infrastructure in West Africa."
Opeke says she is staying with MainOne.
Elsewhere in Africa, Digital Realty has bought into a few different providers, with a stated aim of achieving a "pan-African" position.
In January, Digital took a controlling stake in Teraco, a South African provider with seven facilities in Johannesburg, Cape Town, and Durban totaling 75MW.
That investment followed the acquisition of Nigeria's Medallion Data Centres in 2021, while it also has a controlling stake in Kenya's icolo.io via its Interxion subsidiary.
Teraco has 187MW of total planned capacity, and owns land next to its campuses in Johannesburg and Cape Town that could support 93MW.
The company has a 19MW development project underway, and it's natural to expect these developments to accelerate now that they are backed by Digital's money.
African control, African skills
This process of investment raises questions: when foreign companies buy up African infrastructure providers, does the control pass out of African hands?
Opeke isn't concerned about that: "The infrastructure that Equinix is focused on is all within the country. So local laws and regulations still take precedence on the structure that we're continuing to deploy. So in that sense, it doesn't pass out of African ownership. Each of these entities is locally regulated."
Another question is whether foreign investors will invest in local talent, or ship skilled staff in from abroad, with the result that the top skills remain abroad.
Opeke says there's very little danger of that. "I don't see that yet, and I don't expect that". She points out that building in Africa requires working in different environmental conditions, with different infrastructure, so cooling and power infrastructure will be different. Our teams will continue to play an active role."
Even if foreign owners were tempted to rely on their familiar staff, it wouldn't even be possible for them to do that, she says. "It's not as if global players have excess skills. They're facing skills shortages as well. So I think rather than remove or eliminate the local roles for top talent, we'll be actively doing more recruiting."
21st Century took a proactive role, says Ajisebutu: "Five years ago, we set up a digital infrastructure academy in Nigeria, where we train a pipeline of talents to cater for our needs and the needs of our customers."
Ten percent of 21st Century's profits go into the academy, the company claims. "My idea is to upgrade that academy to an infrastructure university, where we lecture when I retire in about five years' time," he said. "So we partner with the likes of Schneider; we have a lot of global partners that are supporting us in this space."
Of course, there's a danger that some may see data centers as an exciting route for career development abroad, but Opeke thinks there will be plenty to keep them engaged in their homelands.
"Some will take that route, and it's okay," she says. "But we really hope we can retain the core of our talent to grow the business and have interesting opportunities for them."
She herself is an example of this. After graduating from Columbia University, she rose through the ranks at Verizon in New York, before returning to Nigeria, and eventually founding MainOne.
Is fiber a data siphon?
Some people have suggested that the large quantity of fiber coming into Africa could actually impede demand for local facilities, as it would enable users to access cloud services such as AWS instances in the US, or elsewhere around the world. In this scenario, the overall effect might be to siphon data out of the continent.
Set against that, though, individual countries are increasingly applying data sovereignty or data protection measures, which would tend to encourage or require organizations to store data locally.
Opeke thinks this will have some impact: "There's some regulations for data sovereignty, or data protection. I think that does have an impact but I don't think it has a huge impact. I think over time it's just easier to operate in the region, if you have data centers there."
Shorten thinks there's little to worry about, because an increasingly connected population will draw data towards it: "These young, modern, smart people are well educated and are pushing for that technology."
With the arrival of subsea cables, this population will get more online activity in the continent: "When you have that greater connectivity, you have a shift not just in the financial sector, where we've seen the origins of data centers in Africa. They'll move to healthcare, retail, or 5G, and AI. You'll find everybody trying to figure out how to make it happen."
More reliable facilities
There's a popular image of a data center in Africa. It is prefabricated in Europe or the Far East, and shipped to the site. When it's operating, it has to run on diesel for a larger proportion of the time than an equivalent facility in Europe or the US, because of flaws in the local grid.
Opeke says that picture is changing, but it has taken effort: "As far as MainOne is concerned, that is out of date. I can't speak for all data centers, but we've been very intentional about power sourcing and the environment. We've strategically placed our data centers across West Africa with direct access to the grid. We build dedicated lines to take power from a substation, and that results in 96 percent or higher power availability from the grid."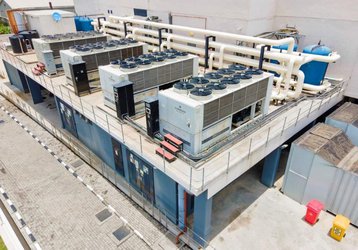 That 96 percent figure may be somewhat less than European grids can give, but it represents massive progress: "Yes, we are burning diesel four percent of the time - but that's a deliberate strategy."
Achieving that figure requires different strategies from country to country, and in Ghana, it drops to 95 percent, but MainOne is keeping to that target: "In Ghana and Cote d'Ivoire you have to think it through. Burning that much diesel isn't good for the environment or the stability of the data center. We are deliberate about power sourcing. We get 95 percent in Ghana, and in Cote d'Ivoire we do better than that."
Wale Ajisebutu of 21st Century is a big believer in data centers that can stand on their own two feet: "We don't believe that the grid can support the data centers of today, so we have to do something about it. So our philosophy is microgrids, and captive power."
He explains: "You build your own power plants and use the grid as a support, or vice versa. But you have to build your own, and you have to rely on a microgrid to be able to survive."
21st Century has the largest solar farm that is powering a data center in Nigeria, claims Ajisebutu, and it is also investing in battery power for its facilities: "The era of connected to the grid is over. You have to do captive power to be able to get power all the time."
Going green
Renewable energy is also harder in Africa than in many other geographies, so while European operators can aim for 100 percent renewable energy, that's not yet attainable: "Nigeria has a lot of hydro, but it's not 100 percent renewable," says Opeke.
"We're starting to see some interesting proposals now for building solar farms that might actually generate enough power, and storing it locally, that could be used as a separate source. But I think that's still very early days."
In the meantime, she says: "There other things that we're doing that we can continue to do to reduce our carbon footprint."
In Europe, there's a need for older facilities to be brought up to date and made efficient, either through regulations or voluntary movements like the Climate Neutral Data Center Pact. Opeke doesn't see things like that happening in Africa.
"Regulation could be a good thing, from an environmental and also from a business standpoint," she says, but Africa won't have such a problem with legacy facilities. "We're able to deploy the technology that gives us those efficiencies today from day one."
African facilities can skip generations, and go straight to optimal energy use and cooling, she says.