Control & Automate
Stream on-demand
The must-watch series on advanced mission critical operations
Data center complexity and the law of unintended consequences
This session took place on March 17, 2021
Please complete the following form to access the full presentation.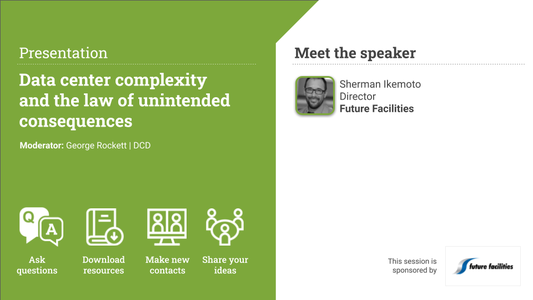 Data center complexity and the law of unintended consequences
The types of control and monitoring systems installed in modern data centers are almost as numerous as the facilities themselves - from air handling to multi-stage controls for air and water flow, it is crucial to understand what they are and how they function. Yet even when the systems are known their behaviours often remain unknown, resulting in unpredictable data center performance.
This presentation will explore the various system topologies, their inherent complexities, and how physics-based simulation can bring foresight to deal with the unexpected behaviours of the data center. Beyond this, as digital twin technology evolves, we will take a look into the roles simulation and AI systems will play in data center operations.
Speakers
Brought to You by