Building the Edge
Stream on-demand
The hit series on edge infrastructure innovation & deployment
Tech showcase - Innovation at the Edge
This session took place on April 15, 2021
Please complete the following form to access the full presentation.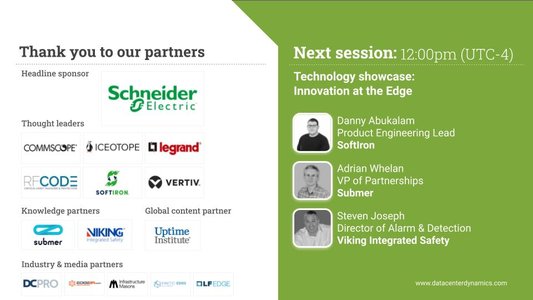 Tech showcase - Innovation at the Edge
12:00 SoftIron: Re-defining Software Defined Storage At The Edge – all the performance, without the complexity
According to PWC, the global market for edge data centers is expected to nearly triple to $13.5 billion by 2024. Danny Abukalam, SoftIron's Product Engineering Lead, highlights the factors driving this growth and the challenges associated with operating data centers at the edge. Danny will demonstrate how HyperDrive, SoftIron's open-source optimized storage appliance, can help to address these challenges, enabling the easy adoption of Ceph within the enterprise. This unique approach delivers all the performance, yet none of the complexity.
12:20 Submer: MicroPod A DC-In-A-Box. Building The Edge
Take a look inside Submer's immersion cooling technology. In this showcase we will give a live demo of our MicroPod solution, how it works and its benefit to the industry. The MicroPod delivers unprecedented high density and efficient infrastructure anywhere. Be it a warehouse, office building, in the heart of a city or in a remote area with harsh-climate conditions and far from the grid. In This talk you will get a closer look at
● The Chiller and Cooling System
● Inside of the tank
● Tank Security Measures
● IoT Server Node
● SmartCoolant
12:40 Viking Integrated Safety: Protecting the Edge
With the advent of distributed computing technologies, where the processing of critical data occurs at the edge connecting IOT and people, reliability is essential. Taking into consideration high heat densities present coupled with an abundant source of fuel, and the potential that something can go wrong in these small autonomous structures, fire protection is an essential element of risk mitigation and the concept should be comprehensive to protect assets and continuity of services. Viking's OneU® Active Extinguishing System answers to that need, providing a comprehensive level of protection in a compact package.
Brought to You by