Pumped Refrigerant Active Rear-Door Solutions: Meeting the needs of multi-density IT demands
This session took place on August 5, 2020
Please complete the following form to access the full presentation.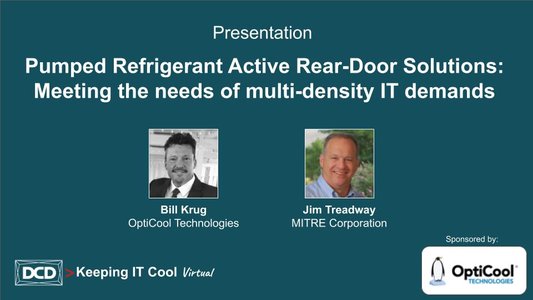 Pumped Refrigerant Active Rear-Door Solutions: Meeting the needs of multi-density IT demands
Increases in power and cooling densities continue to climb in both colocation and on-premise data centers. Identifying and employing more effective and efficient cooling technologies is essential to meet the growing IT densities in compute and networking, particularly when traditional methods are struggling to support the increasing densities of contemporary IT.
In this session, learn how the Pumped Refrigerant Active Rear-Door Solution is answering these multi-density cooling demands while increasing efficiencies and reducing costs. Through actual case studies see how data centers are achieving substantial Capex and Opex savings by collapsing into smaller but higher density footprints and achieving as much as 90% reduction in energy use. As both a new build and retrofit solution, could this be the next generation in data center cooling?
Brought to You by