Tech Showcases - Liquid Cooling
This session took place on August 5, 2020
Please complete the following form to access the full presentation.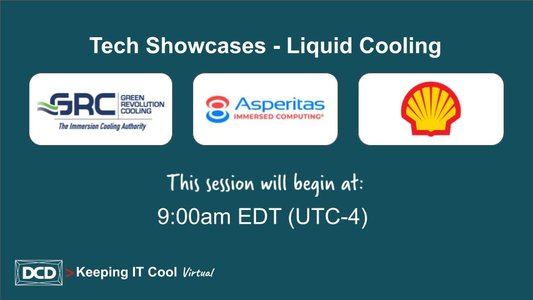 Tech Showcases - Liquid Cooling
A series of quick-fire presentations showcasing the latest technologies and innovations in data center cooling.
9:00am - Asperitas: Immersion cooling redefined: Enabling cost-efficient, sustainable and future-ready data centers anywhere
Immersion in a thermally conductive, electrically dielectric coolant is a highly efficient way to keep hardware cool. Reducing energy consumption and carbon dioxide emissions while reducing costs and increasing location flexibility. On a larger scale, immersion cooling offers standardised efficiency, independent of location, facility and hardware requirements. Asperitas and Shell will be sharing how they redefine immersion cooling with their Immersed Computing® solutions and the jointly developed immersion cooling fluid.
9:20am - GRC: Any location & in any environment - This is not your father's data center
With over a decade of experience deploying single-phase immersion-cooling solutions across a breadth of environments and industries, GRC® (Green Revolution Cooling) sets the standard as The Immersion Cooling Authority®. Serving as an immersion-cooling technology pioneer beginning in 2009, we've kept pushing ahead at perhaps the top value proposition for single-phase immersion cooling - simplicity. What the GRC ICEraQ® lacks in complexity, it makes up for in performance. Easily cooling 100 kW/rack, it breaks through barriers relating to rack density, power availability, location options, and data center design as a whole. Join GRC's Curt Wallace as he dives into how single-phase immersion cooling helps you slash costs, speed implementation, improve performance, and future-proof your data center.
Speakers
Brought to You by