Europe
Watch sessions on-demand
The virtual conference for the European data center industry
Fireside Chat: Design and build evolution - scaling through partnership and transparency
This session took place on November 11, 2020
Please complete the following form to access the full presentation.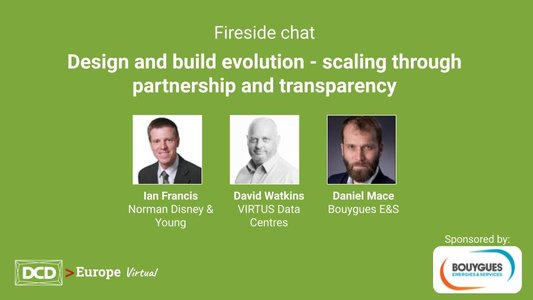 Fireside Chat: Design and build evolution - scaling through partnership and transparency
For the last decade, the data center landscape has evolved rapidly, moulded by demands for the mix of facilities that meet the changing business needs of operators and their clients. The golden question: how to satisfy these ever-growing needs?
The panel discussion will uncover design, build, and engineering techniques that convey effective strategies for construction at scale and speed. Dave Watkins, Solutions Director, VIRTUS Data Centre Ian Francis, Associate Director, NDY and Dan Mace, EVP Bouygues Energies & Services will draw upon experiences of how the dynamics of a flexible and transparent partnership are at the core of sustaining data center growth.
Speakers
Brought to You by