Europe
Watch sessions on-demand
The virtual conference for the European data center industry
Digital Transformation as a Service - The future is here
This session took place on November 10, 2020
Please complete the following form to access the full presentation.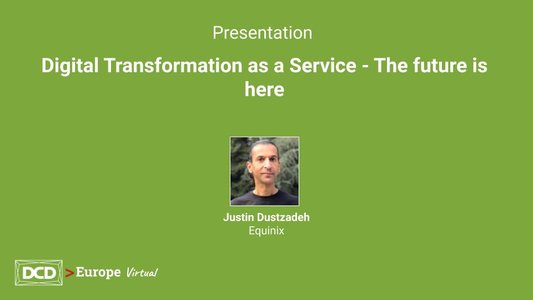 Digital Transformation as a Service - The future is here
In a world that is increasingly living and working at the edge, compute is moving at an unprecedented pace towards edge locations optimally-proximate to data creation and consumption sources. Applications are now more frequently deployed in a globally-distributed fashion, leveraging a hybrid multicloud architecture and relying on infrastructure that can offer self-provisioning, autoscaling and self-healing capabilities through software at scale - but traditional infrastructure was not designed to meet these demands.
This presentation from the CTO of Equinix, Justin Dustzadeh, will discuss how a global control plane for end-to-end, full-stack observability, software programmability and orchestration capabilities can enable operators to accelerate their digital transformation journey. Justin will explore several use cases of distributed architecture, including edge computing, 5G, and AI, and explain why 2021 is a pivotal year for European and global organizations.
Speakers