Carbon at all costs? Why water use in data centers needs to be part of the net zero discussion
This session took place on February 24, 2021
Please complete the following form to access the full presentation.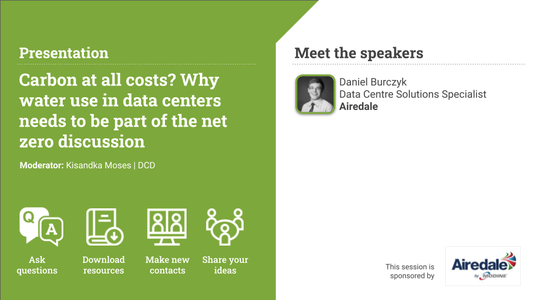 Carbon at all costs? Why water use in data centers needs to be part of the net zero discussion
Water is already a very stressed resource, and growing populations, intensive urbanisation and industrialisation are adding yet more strain. In 2015 the World Economic Forum in Davos listed "water crises" for the first time as the world's leading threat, and this is not a crisis limited to developing countries. With the use of water in data centers increasingly coming under the microscope, the industry cannot ignore its critical role in tackling this global issue. Measures like PUE have helped steer the industry down a greener path and technological strides have been made in order to increase efficiencies, but it doesn't tell the whole sustainability story.
This presentation will examine the evolution of data center cooling in the context of the global water crisis. What are the issues with current systems that are adding to the industry's water consumption? What needs to follow the era of adiabatics to make a real difference not only to energy usage, but also water conservation? Discover the latest thinking and innovations that will evolve temperature optimisation to the next level, and enable high density data centers to achieve low energy cooling whilst minimising water usage.
---
How are you measuring and managing your water usage?
Roundtable discussion
We invite you to join this roundtable directly following this conference presentation to continue the conversation, share your own insights and to find potential collaborators.
Speakers
Brought to You by