When there's no Plan B: A framework for achieving sustainability in data centers
This session took place on February 25, 2021
Please complete the following form to access the full presentation.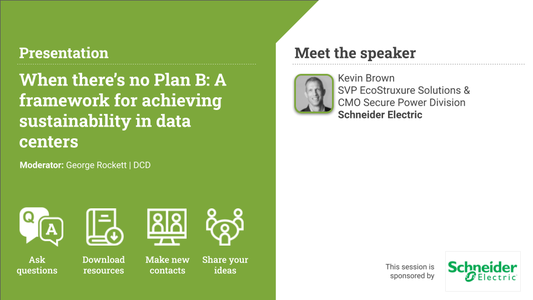 When there's no Plan B: A framework for achieving sustainability in data centers
Sustainability is no longer a choice for data center owners. Climate change and corporate social responsibility are now driving a mandate for a sustainable industry. Both customers and shareholders are requiring that companies define and publish their sustainability programs. A recent 451 Research report interviewed 800+ data center service providers worldwide and a majority of respondents - 57 percent - view sustainability as a competitive differentiator and cite customer expectations as a major driver.
When there's no Plan B for data center sustainability, where do you start? This presentation will introduce a comprehensive framework for developing holistic sustainability programs in the data center industry.
---
How does the industry get to net zero by 2030?
Roundtable discussion
We invite you to join this roundtable directly following this conference presentation to continue the conversation, share your own insights and to find potential collaborators.
Brought to You by