New York
Watch sessions on-demand
The virtual conference for the enterprise data center ecosystem
A UPS technology re-evaluation for scale-out data centers - why UPS market choices are no longer static
This session took place on September 1, 2020
Please complete the following form to access the full presentation.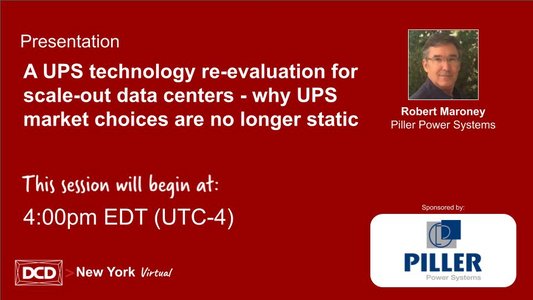 A UPS technology re-evaluation for scale-out data centers - why UPS market choices are no longer static
Data center IT string power ratings are rising but when evaluating UPS options decision making has become too streamlined.
The UPS market is confusing and difficult to navigate meaning the temptation is to stick with what you know. This approach is fundamentally flawed. Are there credible alternatives to paralleling dozens of static UPS modules to scale or to several MW within systems that scale to tens of MW?
This session will include a topology and technology deep dive making real comparisons between UPS solutions which dispel the myths that have grown up in data center design.
Brought to You by