Webscale resilience – hazards mitigation and advanced microgrids
This session took place on July 11, 2019
Please complete the following form to access the full presentation.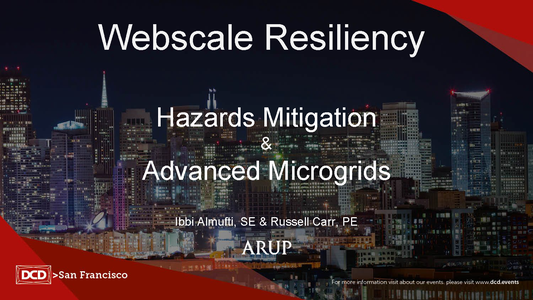 Webscale resilience – hazards mitigation and advanced microgrids
How mission critical are your "hyperscale" data centers?
Global weather changes and grid instability is making us all rethink our webscale resilience strategies. Arup will describe global risk management plans of action being deployed by the largest of hyperscale operators to protect their data center portfolios from hurricanes, floods, earthquakes, and terrorist attacks with the most effective of risk assessment and mitigation tools.
How sustainable are your "edge" computing spaces that carry mission-critical data services to your customers? Do they offer the power resilience and energy management attributes that 5G networks need? Arup will explain how the most successful colocation and enterprise operators are integrating Edge Data Centers into campuses and communities with resilient on-site primary power and advanced microgrid designs destined to become a standard, as the era of IoT becomes a reality.
Brought to You by