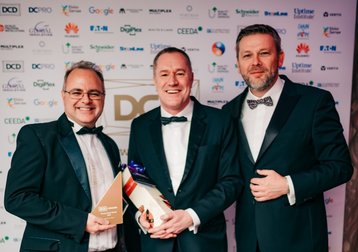 UK-based data center design company CoolDC has won 2019's Energy Smart Award from Datacenter Dynamics, for a facility which uses multiple cooling technologies for maximum efficiency.
The Lincoln Discovery Centre (LDC) aims to cut energy waste and have a low carbon footprint. In the view of the judging panel, it uses technology intelligently to achieve those aims.
CoolDC opted to use liquid cooling, combining multiple technologies hot aisle containment, in-rack containment, rear-door, immersed and on-chip cooling.
With this range of complementary cooling solutions, CoolDC can provide computing services to a range of clients, from standard usage all the way up to high-performance computing (HPC).
CoolDC is also re-using waste heat, which is recovered from the immersion cooling system to help reduce the carbon footprint of the building as a whole. The facility has to some extent shifted away from just consuming energy, to being able to provide this energy in the form of heat.
The Energy Smart award is sponsored by Starline, a brand of Legrand, and a global leader in power distribution equipment.
Proof of Innovation
Through the combination of heat exchange and immersion cooling, coolDC is able to offer clients a fully integrated hybrid solution with enhanced energy efficiency. LDC is an example of how energy consumption and carbon footprints can be reduced by deploying a mix of technologies aimed at providing optimal cooling and energy generation strategies. The integration of disparate equipment allows for more intelligent cooling loops, using a variation of inlet and outlet temperatures.
The system is fully responsive, so cooling can match the demands of IT requirements. LDC is only the first stage of a design which pushes the boundaries of contemporary technologies. CoolDC will work with Rittal to deliver modified chiller racks which are ready for standard OCP-equipment, and cooled with Rittal's liquid cooling package (LCP).
Wider Application
The data center industry is often stated to create as much carbon emissions as the aviation industry. CoolDC believes that to improve on this will require smarter energy consumption.
LDC uses a non-traditional approach, focusing on energy and increasing the operational temperature, rather than on physical footprint. This approach can be readily and inexpensively applied to other projects.
The deployment location is key, as heat cannot be reused unless there is a nearby customer for that heat. Increasing interest in Smart Cities means demand for data centers is increasing in urban locations where potential heat customers can be found.
Who were the other finalists?
More from DCD>Awards 2019