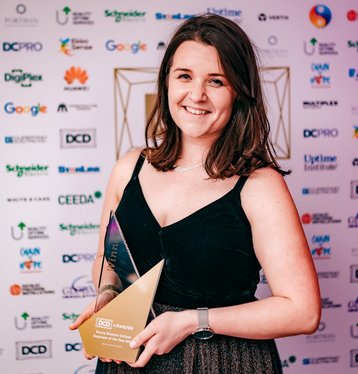 Sarah Davey is a bright, young talented engineer who has worked with some of the biggest colocation and cloud providers in the market. Having achieved a prefabricated reference design that reduces time to market, and is favourable for clients to deploy in untested locations, Sarah has positioned herself as an emerging young leader in the data center industry.
Sarah developed global reference designs that standardise the client's approach for future sites, particularly suited to the high-density markets and hyperscale clients. Sarah has demonstrated her propensity to work across collaborative projects, with manufacturing processes and architectural and client side teams, predominantly independently.
This sets apart Sarah from the rest. Her ability to engage, communicate and collaborate with is a stand out set of skills that is valued throughout any industry. She thrives on technical, fast paced challenges and is able to deliver fine work even when under immense pressure.
Award category sponsor Google wanted to help highlight outstanding achievements by young professionals who are the driving force in the increasingly sophisticated world of data centers.
Ingenuity
Sarah has taken part in a number of problem-solving workshops, proving that when it comes time to solving, improving or developing ideas she is able to work collaboratively, openly and effectively with the team.
Sarah's propensity for quick learning is demonstrated through her involvement in many projects, during one of which she undertook a rapid challenge to learn new computational fluid-dynamic software to validate cool wall arrangements in tandem with traditional existing CRAH units.
Sarah has also taken responsibility for managing projects and working with clients to determine key information and processes required for essential modelling. The high technical competence required in these processes, as well as the ability to work collaboratively demonstrate Sarah's extensive knowledge and skillset.
Role
Sarah's primary roles have been involved with engineering projects for data center clients. Her projects have covered in-depth technical analysis and range from conceptual feasibility stages to detailed design RIBA stages (three through to four).
The methodology Sarah uses means her work revolves around clear communication and effective collaboration. This is achieved by ensuring all participants have a clear role and understanding of information relating to project briefs. Sarah has utilised clear communication as a strong determinant of success, and throughout processes, project records and regular engagement with clients has flagged critical changes in a timely manner.
Who were the other finalists?
More from DCD>Awards 2019