DCD>Turkey returns on 5th December in Istanbul, gathering senior IT infrastructure executives from the public and private sector to debate the growing need for localized digital infrastructures in order to keep up with the region's thriving digital economy.
"We are excited to host this year's event during a time where digital transformation projects are proliferating in the region. This emphasises the investment needed in robust and localized infrastructures capable of supporting cloud, IoT and Big Data applications", says George Rockett, CEO and co-founder of DatacenterDynamics
"This year in particular has seen the public and private sector come together for various initiatives in support of the regional data center ecosystem", adds Rockett.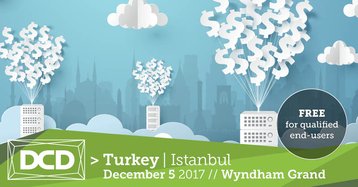 Istanbul the digital bridge
The event will connect senior IT infrastructure stakeholders from the likes of NGN, Equinix, Turkcell, the Uptime Institute, Vodafone, eBay, Bosch, Hugo Boss and many more in Istanbul to debate the future of the growing data center and cloud industry.
The latest investments in colocation facilities in Istanbul by major multinationals have been driven by the city's robust and growing internet connectivity, establishing Istanbul as a major hub and key strategic digital bridge between Europe, the Middle East and Asia.
A wide agenda
As data center operations are increasingly becoming software-defined, the conference agenda has been designed to cover the entire data center stack. Keynotes and debates from some of the leading organizations representing enterprises, aviation, government, media and the education sector will be sharing their best practices at the event.
"This year the agenda is covering everything from design and build of data centers, to best practices in operations as well as covering the latest trends in servers, storage and hybrid cloud architectures. We are excited to once again facilitate a platform for high-level networking and knowledge sharing" says Nadir Ozcagli, project manager for DCD>Turkey.
The event is fully booked and registration is now closed. If you would like to purchase a ticket to attend, please contact nadir.ozcagli@datacenterdynamics.com.