The Karnataka government is using digital technologies to empower its citizens, while developments such as edge computing and the Internet of Things make us all more dependent on data centers. The eighth edition of DCD's Bangalore event on 18 to 19 July developed these themes, and recognized India's data center leaders with the new Best In India Awards.
Shri. K.Nagaraja, CEO of the Centre for eGoverance and director of ITBT at the Government of Karnataka opened DCD>Webscale Bangalore, on 18th and 19th July 2018 at The Sheraton Grand, Bengaluru. The conference, attended by more than 800 data center and cloud professionals heard about government initiatives and industry developments.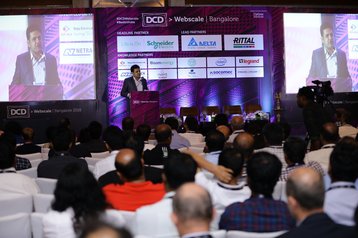 Data center dependency
"The Digital India campaign is about creating digital infrastructure and improving capability and literacy to bridge the digital gap within the country," said Chief Guest K. Nagaraja, describing how the Karnataka State Wide Area Network (KSWAN) has enabled the State Government to successfully connect 6082 Gram Panchayats in Karnataka.
Shaheen Meeran, Director of Business Development, at Schneider Electric predicted huge growth: "Digital traffic is projected to increase by three times from 4.7 Zettabytes per annum in 2015 to 15 zettabyte by 2020. With IoT, it is expected that there will be 20.8 billion things on the internet by 2020."
With these technologies, businesses can adapt to rapid change, said Piyush Chowhan, VP & CIO, Arvind Lifestyle Brands. Gone are the days when business could predict demand, he said. Now we need AI to optimize the use of assets utilization and manage power consumptions and HVAC requirements.
The conference heard about Edge data centers, best practices in physical IT infrastructure, accelerating energy efficiencies in data centers and hyperconverged infrastructure - along with a case study on converting a traditional data center into a smart data center.
The event included speed networking, hosted roundtables and special luncheon sessions with speakers including Syed Beary, Chairman, IGBC Bangalore Chapter, Ajay Bakshi, Chief Digital Officer & SVP Business Transformation, Aegis Customer Support, Dale Sartor, Staff Scientist and Engineer, Lawrence Berkeley National Laboratory, B. Rajput, Senior Technical Director, National Informatics Centre, Government of India, Jai Thomas, Head Infra and Operations, DailyHunt, Imran Shaik, Chief Manager – Data centers, ICICI Bank and experts from DBS Bank Singapore, Delta, Piller, Intel, Sterling and Wilson, Wibmo, Zoomcar, Wells Fargo, Cognizant, Mahindra & Mahindra Financial Services, Government of Telangana, STPI Bangalore, CII, Legrand, STT GDC India and many more.
DCD>Awards: Best In India
This year, DCD launched the Best In India Awards to recognize excellence in the country's data centre industry. The six winners, selected by an independent panel of judges from over 70 applications, are:
Larsen & Toubro Constructions (Design Team of the Year),
Netmagic (Energy Efficiency Improver's Award),
Uttar Pradesh Power Corporation Limited (Cloud Migration of the Year),
ICICI Bank (Smart Data Centre),
GPX India Private Limited (Living at the Edge Award), and
ST Telemedia GDC India (Data Centre Operations Team of the Year).
All the winners were recognised for deploying smart, energy efficient, and well-designed data centre solutions in India.