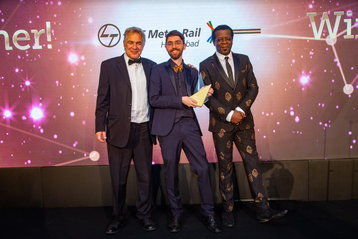 The Hyderabad Metro Rail Project is the world's largest Public-Private Partnership Project (PPP) in the metro sector with significant investment input. LTMRHL Enterprise has a variety of tools and applications that businesses can use as needed, and allows employees to work uninterrupted from anywhere, around the clock and without compromising on information security.
A cloud based solution was used due to the requirements of the mega project, which the Enterprise IT team designed and put in place, with the LTMRHL's network infrastructure encapsulating the requirements of the project. These requirements included rapid scaling of metro operations, other business lines and rapid growth in cloud computing technology, while adhering to the policies, licenses and AMC by OEMs.
The hybrid approach was based on the critical technical evaluation undertaken to ensure optimization of resources, infrastructure costs and cost of deploying applications on-premises via the cloud.
The award category is sponsored by Uptime Institute, who provide high-tier data center performance, efficiency and reliability improvement to data center organizations across the globe.
Project explained
The hybrid infrastructure combines IT, public, private and managed infrastructure. The hybrid approach ensured that the benefits of deploying applications on-premises were taken into account, and the resulting solution would meet the needs of the overall mega project.
The public cloud used a number of asset management systems, featuring a wide array of rich resources that allowed systems to manage employee lifecycles, project operations and productivity. In addition to this, a number of applications were introduced to complete complex calculations relating to high intensity calculation engines, routes and ticket options.
The private cloud use many similar services to ensure the security and protection of sensitive data, maximising the information security of the project. This ensured data security at multiple levels, including application protection, perimeter and gateway level network protection, as well as general web & email security, cloud and endpoint protection.
Proof of Innovation
The retirement of a legacy platform meant that LTMRHL needed to be migrated into the resulting systems as soon as possible. In addition to this, most of the in-house infrastructure components purchased earlier in the year were approaching end of life. The concurrent expiry of software and hardware meant the project had to implement a hybrid approach to ensure continuity and security of operations through the cloud platforms.
The negotiations that took place better positioned the LTMRHL to adequately function as the hybrid IT infrastructure system required for the purposes of the mega project. Proper planning, understanding of emerging risks, and possible countermeasures resulted in the seamless migration and integration of data. This also result in minimal downtime, as well as easy restoration in the event of emergency or crises.
Who were the other finalists?
More from DCD>Awards 2019