The Digital Telangana campaign will make the new Indian state into a major data center hub, government officials said at the DCD > Focus On Hyderabad conference, on 26th April at the Westin Mindspace in Hyderabad.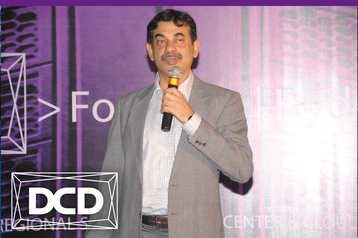 The government's Digital India campaign aims to encourage digital transformation across the nation, but Telangana's state-wide campaign will go further, providing broadband to every building and supporting a data center industry with specific exemptions and reimbursements.
More ambitious, more audacious
"On the lines of the Digital India campaign we designed a Digital Telangana initiative, which has been much more ambitious and audacious," said Shri. Jayesh Ranjan, principal secretary at the Information Technology, Electronics and Communications (ITE&C) department of the government of Telangana, while speaking at the event.
"The pillars on which the Digital Telangana initiative stands is those of demand and supply, in the sense that these digital initiatives will be successful only if the state has the adequate digital infrastructure," he said. This is being facilitated by the local government by providing broadband connectivity to every household, and building digital kiosks which offer government-to-consumer services and various other initiatives.
At the one-day event, 200 end–user delegates heard a description of Telangana's ICT policy from Smt. Ramadevi, officer on special duty at the ITE&C Department. She outlined the progress made by the state government since 2016, and described the exemptions, reimbursements and specific discounts the government offers to companies willing to set up data centers within the region.
The event also heard from leaders at Indian companies including NPCI, Aurobindo Pharma, Natco Pharma, DBS Bank, ICICI Bank, DCB Bank, L&T Rail Metro (Hyderabad), Dr. Reddy's, Telangana State Cooperative Apex Bank, STTelemedia, Railtel, Sify Technologies and Nlyte Software.
Ready for the 4th Industrial Revolution?
India's data center sector is being affected by technologies including artificial intelligence, machine learning and IoT, but adopting any new technology or engaging in any transformation is a big cultural challenge for a company which already has an existing data center, siad Dr. Rajendran, CTO of the National Payments Corporation of India. He added that the new data centers being built today will be extremely data-driven, leading to faster adoption of these technological trends.
Prashant Pereira, associate vice president for data center services at Sify Technologies, said that companies need to keep in mind the essential building blocks like site selection, power infrastructure, load bearing capacity and rack size if they want to benefit from hyperscale data centers.
The event also heard presentations on:
Successful migration to cloud and the pros and cons of this migration;
Blockchain technologies;
Global data center trends;
The future of the data center industry in India.
Anirban Sinha, head of IT at L&T Metro Rail Hyderabad, said: "Consumers are increasingly going for a hybrid environment and are looking to the data center from a solution point, including SOC and NOC, and not just pure-play data center IT services. OT is going to be the order of the day in the coming months with IoT, AI and ML playing an important role in the IT landscape, and companies will need storage capacity which is capable of delivering Zettabytes of data". This trend will lead to the increase in further demand for data centers within the country and the region, he added.