The image of Amazon CEO Jeff Bezos gleefully piloting a 30-foot-tall strikingly Amazonian robot screams digital transformation perhaps like no other single image thus far this year, particularly when you know that the robot can also be AI-driven. The network edge moves out further, yet again.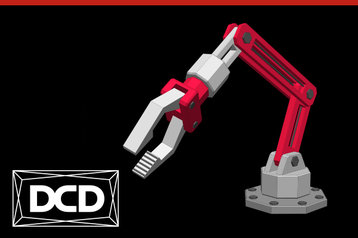 DCD>Webscale, held at the San Francisco Marriott Marquis, will fully examine the impacts on digital cloud infrastructure architectures that make such feats possible. "All around us every day we now see the evidence of digital transformation and all industry sectors are adopting digital-first, cloud-native, hyperscale IT infrastructures to enable, support, secure and amplify business," says DCD conference chair Bruce Taylor.
"In an IoT world, no one is immune; it's how quickly you adapt, not whether. At a time when strategy, development, and operations are collapsing into the same set of processes, having the infrastructure to make that possible is truly mission critical."
Open source, software-defined, AI machine and deep learning, blockchain, 400Gbps networks - all these and more are radically moving data center design/build engineering from the custom-craft data center to the industrial-process-and-efficiency-controlled data center.
"In the era of digital transformation, the data center is the physical and logical factory and the cloud is the distribution system," says DCD CEO George Rockett. "And it's the megascale cloud service providers like Google, Salesforce, Microsoft, LinkedIn, eBay, and others that are designing the open-source, data-driven, software-defined, smart, carbon-neutral automated digital factory."
Getting smart with energy
With the Internet zettabyte data boom, demand for electric power will dramatically grow globally. The DCD >EnergySmart executive roundtable will convene on the afternoon of June 19. "Digital transformation does not happen without energy," says Rockett. "The same science, technology, and software tools that are now changing the IT infrastructure of all industry sectors are also changing the energy industry. With EnergySmart we hope to bring together all stakeholders together to gain greater understanding and insight into smart digital power infrastructure.
Free registration for qualified end users applying before May 1, 2017.