Invite Systems is a service provider in Romania supporting companies streaming live video broadcasts and computer games. Not surprisingly, its clients enjoyed a surge of business when the Covid-19 pandemic hit in early 2020 – but it needed to expand, and expand fast, in order to meet those demands.
That meant building new data center facilities within months, when the usual process would have involved acquiring land or space, building permits, lining-up construction firms and specialist data center builders, a long shopping list of hardware, and the purchase, delivery and installation of that hardware.
As a result, while the surge in business was not unwelcome, making sure it could be satisfied put the company's management into something of a quandary.
The National Research Centre in Cairo had a different problem, but one that will be familiar to many organizations: piecemeal expansion of IT provision over the years had left it with a patchwork of computer rooms all over its campus. These were supposed to support the work of more than 4,000 researchers, but improving provision had become something of a headache.
The obvious solution would be consolidation into one, or maybe two, centralized data center facilities that could be more easily, and effectively managed, while providing a better service all round. But that kind of investment doesn't come cheap and can take years to fulfil.
For both organizations, the solution was to adopt and install modular data center solutions, able to fit into their available space, without compromising expandability; while slashing the length of time it takes to go through the usual procurement processes for the various different components that typically go into the data center, not to mention installation times, too.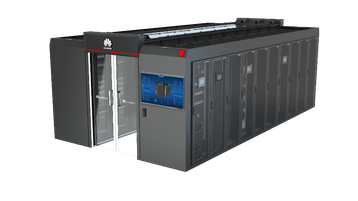 Planning process
A data center isn't normally something you can simply construct in a matter of weeks: real estate needs to be identified and purchased; planning permission can be opposed by residents mollified; electrical supplies need to be agreed; plans drawn up; construction firms shortlisted; and, then there's the question of the electrical, cooling, IT, backup and other hardware that also needs to be procured and financed at the same time.
But Invite Systems was able to get its modular data center – from Huawei – purchased, installed, and up and running within months, enabling it to satisfy burgeoning business demand without the usual challenges entailed by rapid expansion.
Instead of renting space in a suburb or business park, it repurposed its old staff canteen into which Huawei FusionModule2000 could be installed. The FusionModule2000 is fully modularized and integrated, does not need to be installed on a raised floor and can be deployed quickly.
"Huawei FusionModule2000 shortened the rollout time of our new data center by more than two months, from preparation to installation and overall commissioning. Much to my surprise, deployment was completed in just one month, exceeding all expectations," said Alexandru Catrin, the CIO of Invite Systems.
The Module features its own hot and cold aisle containment, in-row smart cooling, and local cooling. And intelligent, predictive management can identify potential problems quickly on all power supply and cooling systems, making it easier to manage for operations and maintenance staff.
Separately, Huawei also installed the SmartLi UPS in what used to be the canteen kitchens. As the name implies, it is based on Lithium-ion technology, helping to slash the overall footprint that the company needed to devote to UPS backup by 70 percent compared to conventional lead acid-based UPS.
While the challenge faced by the National Research Centre (NRC) in Egypt was no less frantic, the scale of the project was arguably even bigger.
Part of the Ministry of Scientific Research, it accounts for almost two-thirds of the Ministry's scientists – more than 4,000 of them – and is one of the largest research centers in the country.
However, IT was distributed across 16 different buildings over a sprawling campus, with 11 IT support staff shuttling between buildings to perform operations and maintenance tasks. Bottlenecks blighted scientists' work, while the IT support staff spent most of their working days troubleshooting and performing repairs, sometimes taking up to two days to fix faults. Furthermore, having staff shuttling in and out of widely dispersed computer rooms meant that physical security could have been better, too.
Therefore, simply adding extra compute power, storage capacity and network bandwidth to the equipment in the various equipment rooms, as and when required, was no longer enough.
Instead, therefore, the NRC proposed a centralization plan in line with the Egyptian government's Digital Egypt digital transformation programme.
Rather than managing widely distributed equipment rooms, it would consolidate its IT needs within a single, modular data center – Huawei FusionModule2000 – integrating power, cooling, racks, cabling and management systems, everything necessary, in just one modular data center. In addition to the FusionModule2000, the NRC also brought-in a Huawei UPS, offering a modular redundant system to prevent the UPS from becoming a potential single-point of failure.
The package enjoys an Uptime Tier IV-ready certification out-of-the-box, as well as Huawei NetEco intelligent management system, which provides visual status of the data center's equipment room environment, cooling, power supply and distribution subsystems.
Part of the reason for selecting Huawei, says NRC IT manager Samah Aboul Fetoh, is that few other vendors pack quite so much into "such a small space". Furthermore, the modular nature of the design extends to the power supply, which can be flexibly configured and expanded without the need for downtime as demand.
This means that it can support a 'pay as you grow' model, enabling the NRC to pay only for what it needs, but with scope to expand compute power in the future without further upheaval. At the NRC, expansion plans include a project to construct an in-house cloud platform linking research institutions across Egypt, enabling them all to benefit from a major IT upgrade, too.
"We desperately needed to begin the digital transformation journey and own our own smart data center. This will facilitate and secure our transformation," says Fetoh. "The reforms undertaken have ultimately brought many benefits and we have enjoyed full cooperation with Huawei during deployment."
Going big
Smart modular data centers need not be limited to a single installation.
The Big Data Industry Park in China, as might be expected from the name, required significant compute power to support the project in cool and dry Qinghai Province. The aim of the Park, led by the government of Hainan Prefecture, is to become China's first big data industry 'demonstration base', running entirely on renewable energy. The idea is that the 800,000 square meter Park should provide a model for others to follow, acting as a big data disaster recovery base, and a national big data energy industry base.
While ambitious, operating costs needed to be tightly contained. Therefore, instead of opting for a bespoke grand data center design, featuring hardware from multiple vendors, the Park selected not one, but 16 Huawei smart modular data centers, installed side-by-side and back-to-back in the Park's main computer room.
More...
Huawei reveals not one, not two, but 11 scenario-based solutions during Huawei Connect 2021

All-flash, all-Ethernet hyper-converged data centers will help operators improve performance, achieve sustainability targets and simplify operations and maintenance

Company completes five million sq ft campus development