Category sponsor Eaton presented DCD's "Sustainability Pioneer Award" to Aidin Aghamiri, CEO of ITRenew.
Aghamiri was selected by a specially convened group of sustainability experts from across the data center industry and presented with the award on 8 December at the 15th DCD>Awards ceremony in London.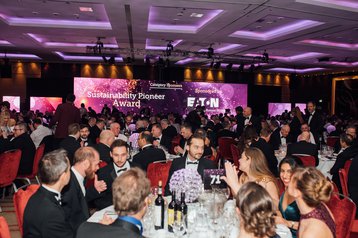 When asked about this newly-introduced award, Eaton's Ciarán Forde explained, "Sustainability is at the forefront of everyone's mind, not just in our industry but around the world.
"At Eaton, we're taking steps to help data centers move from efficiency to sustainability and to contend with the challenges and opportunities associated with the Energy Transition. Environmental stewardship is at the heart of this effort, so this award is a great way to celebrate those who are going above and beyond to protect our planet."
As CEO of IT Renew, Aghamiri personifies not only the entrepreneurial approach to doing business but also the strong sense of social responsibility and environmental stewardship that we need to see more of. A pioneer of circularity even when it wasn't cool, he's built a global business out of it.
For more than two decades ITRenew has been maximizing the lifetime value of data center technology through innovative circular economic models and a comprehensive portfolio of decommissioning and data security services, Edge and component products, and rack-scale compute and storage solutions.
His strategy can be summed up in his personal motto "refuse to settle for a world that pits economic success against social good," which has become the company's mission statement.
Congratulations to those that won in our biggest and best year ever

Iron Mountain to launch Global IT Asset Lifecycle Management business

Exploring what sustainability means in the data center context