On 1st December 2021, Anord Mardix was officially acquired by Flex from private equity firm Bertram Capital. The acquisition adds to Flex's portfolio of Power products and expands its offering in the data center market. The $540 million, all-cash transaction has been unanimously approved by Flex's Board of Directors and marks the beginning of a new era for both companies.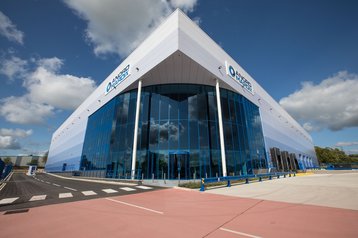 Anord Mardix was established in 2018 as a result of a business combination between Anord Control Systems and Mardix, each with over 50 years of engineering experience. Anord Mardix offers an extensive product portfolio of critical power solutions including switchgear, busway, power distribution and modular power systems, along with monitoring solutions and services.
This portfolio combined with Flex's embedded power, server and storage products, racks and enclosures and full systems assembly capability will accelerate the company's growth in the data center market. Anord Mardix will also leverage Flex's global footprint and supply chain to establish itself as a trusted provider of quality products at scale across all major regions.
"This acquisition builds on Flex's previously articulated strategy to move toward higher margin opportunities in faster growing verticals in our Reliability business," said Revathi Advaithi, Chief Executive Officer of Flex. "With Anord Mardix, Flex's business will be better positioned to capture rising global demand for data center power solutions."
"Anord Mardix primarily markets critical power directly to data center operators. By joining Flex, we will be able to build out Anord Mardix's comprehensive range of end-to-end power systems for critical data facilities, leveraging Flex's expertise and efficiencies in advanced manufacturing and global supply chain. We look forward to being a part of Flex and expanding our abilities to provide quality data center solutions to our customers," said James Peacock, who will be managing director of Anord Mardix.
As a widely trusted partner serving a diverse, global customer base, Flex's global scale and key relationships with industry leaders will benefit Anord Mardix as they work to expand into the U.S. and Asian markets, with key hyperscale and colocation partners. Together, the combined offerings provide a broad opportunity for strategic growth and for Flex to further penetrate a $10 billion addressable market, that is expected to grow at an approximately 9% CAGR through 2026.
Anord Mardix is projected to generate approximately $360 million in revenue in calendar year 2021, and the transaction is expected to be accretive to adjusted earnings per share and deliver mid-teens EBITDA margins in fiscal year 2023, which begins 1st April 2022. For reporting purposes, Anord Mardix will be included in the Industrial business unit inside Flex's Reliability Solutions segment.
About Flex:
Flex (Reg. No. 199002645H) is the manufacturing partner of choice that helps a diverse customer base design and build products that improve the world. Through the collective strength of a global workforce across 30 countries and responsible, sustainable operations, Flex delivers technology innovation, supply chain, and manufacturing solutions to diverse industries and end markets.