It hasn't gone unnoticed by anyone working in data centers that there is a significant disproportion when it comes to the gender divide in employees (and employers). This isn't isolated to our industry, however. It is a STEM-wide issue with origins in centuries of gender-based inequality.
Marynet Bassily, Director of supply chain and procurement for Vantage Data Centers has seen this female 'drought' across several industries.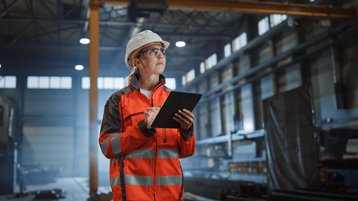 "When I joined the railways, it was very much like this, and by the time I left the railways, it was near enough the opposite. I remember sitting in a meeting room with seven out of eight people being female, project managers, engineers, even the construction manager, and it was great to see that transformation. Unfortunately, it is taking quite a long time for us to get there, but I believe we will."
But how can we start to break down a several-generations deep construct? In truth, there is no one simple answer. It needs to be a multi-approached attack, one that leaves patriarchal values trapped and powerless.
"I'm a member of what we call the JEDI, which is justice, equity, diversity, and inclusion. The other forum that I'm a member of within Vantage is the Women Leadership Forum. Within those two events, we're trying to promote more diversity into the business, especially women in STEM and upper-level roles, because it tends to be that the female representation within construction sits within the softer aspects, like the legal and HR, rather than in engineering or construction.
"We need to ask ourselves questions like, how do we promote? How do we get more young ladies into the engineering world, the STEM world? Is it going into schools and trying to promote ourselves? I'm a mother of three girls, so I know what it can be like – there's a bit of a glass ceiling."
The glass ceiling is a concept that, if you are a professional woman, you are well familiar with. But it can be pushed through. As Marynet said, she saw it happen in the railway industry, and we can follow suit.
"I hate to use the word positive discrimination, but there was a little bit of that within recruitment. But there were also targeted recruitment campaigns, going into universities and schools, and promoting the industry a bit more.
"That's from a business perspective, but I also think that young females need to be able to take that in and actually pursue careers in STEM industries. There's a bit of management needed on both ends. From my background, there's not a lot of women in engineering, because of the idea that we need to have a family, that's what's more important. But why can't you do both?
"If you look at some of the posters from TfL and the license network, you see that there are more females with hard hats on. It starts with your marketing and advertising, and it starts with women like myself and others who go down to primary schools and start talking to them and getting girls interested in STEM."
Ultimately, it is not just within the data center industry that attitudes need to change. It is all very well to argue that women can do 'both', but expectations for women to raise a family and maintain a household also need to change, to allow them the bandwidth to take on these roles. Women can do both, but they cannot and should not be expected to do everything.
The data center industry has so many opportunities to pave the way. Be it in industrial environmental sustainability, or bridging the gender gap. There is a responsibility to do better than those who went before.