If you were asked to name some of the biggest companies in data center equipment supply, Vertiv would almost certainly be one of the first names to roll off the tongue.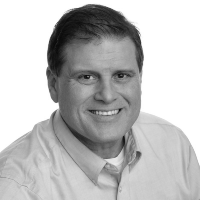 A heavyweight technology company supplying critical power, the full range of cooling hardware, racks and enclosures, all the way through to monitoring and management, and services, it therefore employs heavyweights like Ron Spangler – a highly experienced mechanical engineer with decades of experience behind him – in key positions.
"I'm focused on thermal management. I've been with the company since 1986, so I've got a lot of experience in the air cooling side, sharing my expertise," says Spangler, senior manager of thermal management at Vertiv, in an interview with DCD.
After all, a company like Vertiv is not necessarily a pure products company, but a company that helps design and implement complete solutions for clients. That means conducting engineering on their behalf to make sure that the products work perfectly as key components of a smoothly functioning data center.
"So I've got teams going out to evangelize our products but, at the same time, they're coming back from clients and saying, 'We've got this product line, yet it's not exactly what they want. We need it in a different kind of configuration, can we design that for this customer?'"
Of course, Spangler is only too happy to bring his three-plus decades of experience to bear for customers, going the extra mile to deliver what they want. "Besides, every time you build something custom, it teaches you plenty of new things," he says.
Air cooling, though, is under pressure from the need to drive ever-greater efficiency, both directly in terms of the cooling supplied to server rooms, but also in terms of recycling – a shift that the cooling specialists at Vertiv, like Spangler, foresaw years ago.
"Several years ago, our existing engineers, whose expertise lay more in air cooling, looked at liquid cooling.
"Then, we brought in engineers with a deep expertise in liquid cooling. So we're not a bunch of air cooling folks who decided to figure out liquid cooling; we now have a specific R&D capability led by specialists whose engineering backgrounds are in liquid coolers, bringing their expertise to us," says Spangler.
Part of the approach that Vertiv has taken is to ensure that, regardless of the cooling options selected by the client, they will all remain easy to integrate and manage. This includes incorporating common control platforms that are completely interoperable, regardless of whether it's liquid cooling, CRAC units or chillers – they're built on the same platform.
One of the fruits of this development was the XDU liquid cooling system, launched in the US in 2019 and introduced in EMEA at the end of 2022. It enables direct-to-chip liquid cooling to be deployed in air-cooled data centers. The XDU circulates water through liquid-cooled server racks and then rejects the heat from the returning warm water. The heat can either be taken off by the data center's existing air-cooled environment, or be captured and used to warm nearby offices, homes, or farms.
The power and other savings that can be generated by adopting liquid cooling in air-cooled data centers was the subject of a recent, in-depth research study by Vertiv and Nvidia. According to Fred Rebarber, senior technical director, Thermal Solutions, at Vertiv, writing for DCD, "In high-density data centers, liquid cooling delivers improvements in the energy efficiency of IT and facility systems compared to air cooling.
"In our fully optimized study, the introduction of liquid cooling created a 10.2 percent reduction in total data center power and a more than 15 percent improvement in TUE [total power usage effectiveness."
And that was just one of a number of benefits.
As a result, Spangler's colleague Greg Stover, Vertiv's global director, hi-tech development, sees a hybrid data center environment emerging. In a DCD>Talks interview in December, Stover said: "For the last two years there have been new technologies – specifically, chips – that require new [cooling] technology, and there have been servers that require new infrastructure to power and cool them."
That, in particular, has driven a real surge in interest in liquid and immersion cooling.
"We're seeing a lot of activity right now where people say, 'hey, my densities are going up but I want to stay in my existing space'," continued Stover.
"Rear doors are becoming a very big answer, so let's bring in a cooling distribution unit (CDU) and a rear heat exchanger. From there we have options. We can do a passive door, we can do a machine-assisted or fan-assisted door."
In this way, liquid and immersion cooling systems have started to infiltrate traditional air-cooled environments. A number of major, leading edge customers in the US are already deploying this technology in the way that Stover outlines.

"What's unique about it is you can literally configure your environment. You can say 'I'm gonna go to 30, or 40, or 50Kw', whatever the design is. I've got customers doing 20-kilowatt racks with rear doors, because to them, it's more efficient. They like that design.
"Plus, if you do it right, the next step is to go strictly direct-to-chip. So I've got my CDU out on the floor, I can take the manifolds out, I can take the rear door off, I can put manifolds in, I can put in the circuit center so I can control the primary side flow and do the adjustments to the equipment, and now I can leverage stuff I've already installed to be my first step into liquid-to-the-chip cooling."
Stover also touched upon the need for new thermal management strategies in an opinion feature published in DCD in December, examining the key global trends that will affect the sector this year.
Nevertheless, while liquid and immersion cooling are starting to appear in mainstream data centers, air cooling will remain the dominant approach to data center cooling for the foreseeable future, believes Spangler.
"We still do quite a bit of 'traditional' perimeter cooling. Wildly popular right now is a 265 kilowatt model that has the refrigerant economizer that sits in the in the white space, sometimes on raised floor, sometimes horizontal air. That's another shift we've seen over the last 10 years or so, but it has really accelerated over the past three – a significant shift towards horizontal airflow down the aisle.
"So you have a perimeter system that sits inside the room, whether it be chilled water or direct expansion (DX) with the refrigerant economizer. And then you also have the CWA, where the fan coil sits outside and then the big box, outdoor system. Those are probably the three things and large data centre that we see the most.
"But we still have, in terms of the replacement market, clients with raised floor data centers, especially enterprise spaces that will almost certainly have the raised floor, changing out equipment. And there's some refreshes where they haven't moved-on to colocation," says Spangler.
And yet, with the pace of change in the industry right now, including the start of a shift towards liquid cooling and immersion, there almost certainly will be plenty of 'moving on' in the next few years.