The fight against friction in physical retail has only just begun. Whilst e-commerce has been a hotbed of innovation in getting closer to the customer, the world of physical retail has been slower to evolve.
Now though, with biometrics, cameras, and sensors, this is quickly changing, so what does this mean for edge infrastructure? What role will the cloud play and what will on-premise edge infrastructure need to look like? How will retailers come out of Covid with a competitive edge?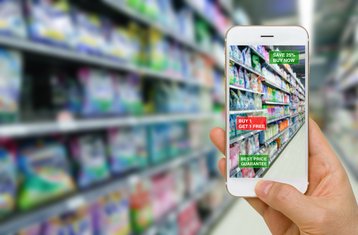 These were just some of the big questions discussed at the recent DCD>Building the Edge session, What kind of edge does Frictionless Retail need, which is now able to watch as an on-demand broadcast.
For Jordan Fisher, CEO co-founder of Standard Cognition, a startup bringing fully autonomous checkout to physical retail, the opportunity is huge; "We are trying to disrupt everything. Ultimately, there is an opportunity to transform every physical industry in the world, which has not yet been revolutionized. And our particular mission here is focussed on the way that people shop."
"Across all humanity, there's a few billion hours spent waiting in line each year - it's just the ultimate drudgery! And that should be a thing of the past. We are building a solution that allows retailers to transform their stores with our computer vision system on top, which then allows shoppers to walk in, grab stuff, leave, and get the receipt automatically," continued Fisher.
Martin T. Olsen, VP, global edge & integrated solutions at Vertiv has his own perspective from their extensive work with retailers; "It's about improving the customer experience and that begins with the physical aspect and the level of IT assets available in the location. There may already have been some basic customer experience in the store, like WiFi, but it was very minimal. Now, however, you are transforming the entire product. And we are really seeing this accelerate right now."
The Covid-19 pandemic has hastened the change to how we shop, from the closure of physical shops, to a rise in click and collect and a boom in online shopping.
Peter Trepp, tech CEO, author, and consumer privacy expert sees this conjunction of circumstance and technology as creating a strong environment for change. "Everything is ripe for disruption here," he said. "You don't have to go back many years to see that the physical retail environment really didn't change for decades, we would go in, pick up our items and stand in the cash cashier line.
"Now I think there's a huge sense of urgency on the part of retailers to figure out the future and it's a collision, between e-commerce and the physical world. We are already seeing lots of examples of this, for example with Amazon. And the imperative for retailers is to change, or you might lose business to somebody that has - it is a very distinct competitive advantage," concluded Trepp.
These are just some of the talking points in this lively discussion, with three passionate experts guided by our very own Sebastian Moss, so watch the on-demand video now to learn their thoughts on the technical realities of delivering these customer experiences, the declining role of physical shops on struggling high-streets, Amazon and much more. Watch now!