As the world hurtles towards an increasingly digital future, the volume of data created, processed, and stored has never been higher. Experts have estimated that up to 180 zettabytes (ZB) of data will be created in 2025, up from 32ZB in 2020. This data growth trend is not expected to slow, but to accelerate as digital transformation initiatives speed up and data becomes the core means of production.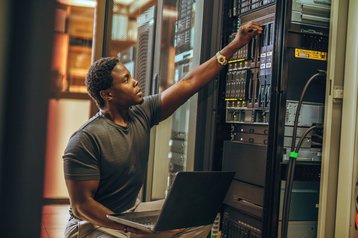 For instance, banks have introduced online and mobile platforms to better serve their customers, delivering online banking services that rival the services of a physical bank branch. As the rapid rise and proliferation of online platforms continue unabated, the need to deploy new infrastructure to capitalize on this data and generate digital dividends is now more urgent than ever.
Moreover, modern data centers are also under pressure in areas such as performance, energy consumption, the skyrocketing cost of outages, and complex operations and maintenance (O&M). Properly supporting data demands an upgrade of existing data storage systems and a new architecture that puts data at the core of the enterprise.
Successfully meeting the new data requirements necessitates an all-flash data center, which offers superior performance, reliability, and energy efficiency over traditional data centers. There is also the need for intelligent storage management to properly manage data lifecycles and bridge cloud platforms with data center systems.
Huawei Data Management Engine
Huawei's Data Management Engine (DME) is an intelligent storage management platform that simplifies storage management and O&M to improve the operational efficiency of data centers. Designed for a wide range of applications, it offers the intelligence to automate storage throughout its entire lifecycle and open APIs, scripts, and plug-ins that integrate with mainstream cloud management platforms and third-party platforms such as Information Technology Service Management (ITSM) systems.
Users simply need to log in to a unified management interface to manage the data services, from resource provisioning, intelligent O&M tasks, and data protection for data services. With the ability to centrally manage Huawei storage, third-party storage, switches, and hosts, multi-device storage management is vastly simplified.
Fault warnings often come only when systems are failing and might be too late to avert a catastrophic outage, while it can be difficult to determine if the existing center resource can cope with growing data loads. DME addresses these concerns with AI-based health checks that safeguard storage services by detecting abnormalities in performance, capacity, and other workloads in advance.
DME offers the following health-related features:
Performance anomaly detection: A prediction model is trained at a scheduled time every day and used to infer the performance range over the next 24 hours to determine if performance indicators are abnormal and sound an alert;
Predictive performance and capacity warning: DME uses intelligent algorithms to predict the resource performance trend for the next 14 days, as well as the capacity usage trend over the next 90 days to identify performance and capacity risks;
Imbalance load alert: To keep your data center running smoothly, DME periodically checks the loading of controllers and front-end storage ports to identify and grade imbalanced service loads for preventive measures; and,
Visualized topology: A visualized SAN network topology is supported with end-to-end paths from hosts to storage devices. Alarm, resource, and health status information are automatically captured to help administrators quickly identify and review abnormalities.
Intelligent data-tiering to meet surging data needs
Apart from the ability of DME to implement unified management and O&M of storage systems in data centers, DME offers full lifecycle management with automated resource provisioning based on criteria such as service level agreements (SLA), customized rules, as well as intelligent data-tiering to unleash the full value of data.
Specifically, DME manages data resources pools using different tiers, to meet various use cases such as live production data, data used for data analysis, business continuity, backup, or archiving. Production or hot data can be automatically moved to lower tiers using algorithms, enhancing storage efficiency.
One customer that benefited from Huawei DME is a bank in the Philippines. As part of its strategic ambition to accelerate its digital transformation and bring inclusive finance to more Filipinos, the bank rolled out a mobile wallet and contactless payment solution, which provides users with convenient and instant access to digital banking services. This resulted in a rapid increase of data, prompting the bank to partner with Huawei and deploy DME to manage its data.
DME can virtualize block storage resources at the logical level. Block storage resource virtualization refers to grouping storage pools on storage devices, based on certain rules. This rule is static and needed to be defined by the administrator (such as performance and capacity capabilities) to form different block storage resource pools after storage devices of different models are added to the system. DME Storage supports the definition of the parameters for block storage service levels: QoS Policy, IO Priority, Capacity Threshold, Service Level Performance Threshold, and LUN Performance Threshold.
Optimize data cost with data mobility
Through the lifecycle of the storage system, there are a variety of reasons that might see data moved between different storage devices. Reasons range from ensuring that the data is available on the right system, having adequate data protection or for data backup, or aligning the expected service experience more closely with the optimal total cost of ownership (TCO).
Ultimately, getting data where and when it is needed is crucial to enterprises. On this front, DME offers two data mobility functions to optimize data lifecycle costs: Optimal service placement and on-demand data movement. The former uses workload fingerprint technology to aid manual identification and prediction of service I/O models and allocate the most appropriate resources to services at the optimal data storage location.
On-demand data movement periodically analyzes the access frequency of data in storage devices and moves data between devices to improve resource efficiency and minimize costs. It works even for devices without service awareness, allowing the entire organization to benefit from the ability to efficient management of hot, warm, and cold data.
As enterprises march into a future of rapid data growth and demanding storage requirements, the unified management of multi-vendor devices is unavoidable. Designed with this converged future and equipped with intelligent AI-based capabilities and open APIs, Huawei DME will offer heterogeneous support of more than ten mainstream storage products by the end of 2021.
More...
As data centers become ever-more complex, the need for intelligent operations and maintenance systems becomes ever-greater

How Huawei's all-in-one FusionModule2000 enabled three organisations to roll-out new data centers in weeks

Huawei has unveiled four new upgrades to its CloudCampus 3.0 Solution at Huawei Connect 2021