Buoyed by demand from 73.9 million Internet users, the Philippines ranks second in data center growth among Southeast Asian countries. And according to analyst firm Frost and Sullivan, the number of data centers in the country is projected to grow at 24 percent in the next three to five years, says Philippine Trade Secretary Ramon Lopez.
Speaking at a special executive CEO roundtable session on the second day of the Philippine Digital Convention 2021 organized by PLDT Enterprise, Lopez attributed it to a combination of a much improved economic situation and accelerating digital adoption stemming from the ongoing pandemic.
Other plus factors would be its strength as one of the fastest-growing business process outsourcing (BPO) markets globally and the pivotal role of the cloud in this industry, a tech-savvy population with a median age of 25.7 years old, and the second-largest population in Southeast Asia with a rich talent pool of young professionals, says Lopez.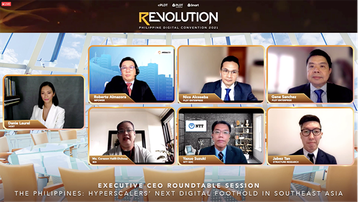 Nico Alcoseba, the vice president and head of ICT Business at PLDT Enterprise, observed that his team is seeing a sizeable influx of hyperscale tech companies in the country.
"We have been fortunate to be serving hyperscaler customers; a majority of them are already in our data centers. This gives us the insights and understanding of their requirements, and allowed us to elevate our infrastructure design, our operating practices, and business models, according to what they need," he said.
To help establish the Philippines as the next hyperscaler hub in the Asia Pacific, Alcoseba shared that PLDT Enterprise intends to enhance its existing facilities by adding more power capacity per rack to serve hyperscale customers better.
"We at PLDT are continuously enhancing our existing data centers in three main ways. First, we are adding more power capacity per rack to support the dense and high-powered equipment of hyperscalers. Second, we're further enhancing the reliability and energy efficiency of our data center facilities. And last, we're also looking for ways to deliver renewable energy to support the carbon neutrality commitments of these companies," he added.
Moreover, to further cater to the growing requirements of hyperscalers intending to expand in the Philippines, PLDT will be building the first and biggest hyperscaler data center facility in the country.
"This hyperscaler data center is a first of its kind. It will have more power capacity in one facility versus all our 10 VITRO data centers combined. It will also be designed to be global class in energy efficiency and reliability, and will make use of the latest in green technology," said Alcoseba.
Is the time right for the Philippines to open its doors to hyperscalers? "Yes, absolutely," said Yasuo Suzuki, a senior vice president at NTT Global Data Centers. He shared how hyperscaler deployments began in the US and made their way to Europe and Asia Pacific countries such as Australia, Singapore, and Hong Kong.
"In the Philippines, the growth potential is supported by the country having the second largest population and the third-largest GDP among ASEAN countries, and talented IT engineers. That's why I think that there is no doubt that the next target country for hyperscalers will be the Philippines."
"Some key success factors for hyperscalers would be the supply of adequate power including renewable energy, mature supply chain, easy permitting process, economic incentives, and IT engineers. I think all of them can be found in the Philippines today," said Suzuki.
Gary Ignacio, the vice president and head of Strategic Business Development at PLDT Enterprise, noted that the road ahead is bright and promising as he summed up the session.
"I'm thrilled about the prospects that have already started to unfold and excited to witness how this is going to scale up in the coming years. Rest assured that the PLDT Group will be at the forefront and continue to play an active role to help realize this [digital] vision and that we remain committed to delivering a positive impact to the industry as it takes shape," he said.
The group, through ePLDT owns the largest telco-neutral network of 10 globally certified VITRO data centers, strategically located across the Philippines. These are supported by PLDT group's extensive 524,000-kilometer fiber optic network in the country and are linked to its extensive participation in 14 international submarine cable systems and one terrestrial system carrying data traffic going in and out of the Philippines.