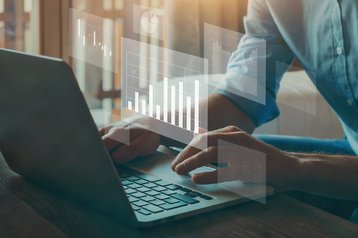 The Cloud Has Four Walls is financial services firm Credit Suisse's market analysis document covering data centers, towers, telecoms, and networking, and has seen dramatic changes in the last few years that will shape 2022 for the industry.
Hyperscalers are massively growing spend towards data center infrastructure
Perhaps the biggest shift that Badri noted, is the increased spending on data center infrastructure.
"I think eyes tend to gravitate to the slide that is referring to hyperscale capital expenditure spend growth. So, this is the spend that companies at Facebook [Meta], Microsoft, Oracle, IBM, and Google are allocating per year to build up data center and internet cloud operations.
"This number has surpassed people's expectations almost five years in a row. Part of this is the fact that these major companies are growing revenues faster than people initially perceived. Also, the amount of demand from a data consumption perspective has stepped up quite a bit because consumers like yourself and I have ended up using a lot more applications and cloud-based workloads, this is pushing a significant amount of activity to these major cloud providers. So the number to track, really the North Star of the sector, is the big hyperscale CapEx spend number.
"The big flagship data point is that in 2022, US hyperscalers are going to grow their spending towards data center infrastructure by about 23 percent. What makes this such a critical number is that when we were reviewing the same metric just three months ago, they were only going to grow this amount of spending by about 10 percent. In a two or three-month period, this number has been revised dramatically.
"What that is suggesting, is that the forward-looking demand we should see in the first half of 2022 is going to be substantial. People should expect to see a lot of early ordering, a significant amount of purchase orders being submitted, and just a high volume of overall demand."
2. Product purchase orders have accelerated dramatically, and are set to continue doing so
The next thing Badri emphasized, was the increase in product purchase orders. An increase, he suggests, that is not likely to go back down.
"The second data point is a little bit more of an attraction to the analyst community because we like to look at the headline numbers and then go under the surface, to the product purchase orders that enterprise customers are submitting to data centers, networking, switching providers and hardware providers.
"Those product orders have accelerated dramatically in the last two quarters and based on our conversations with a lot of executives, they're either going to accelerate again or hold their already high growth rate.
"A company like Cisco has recorded increases in product orders in excess of 30 percent in the last two quarters. If we go back five years, that number used to only go up four or five percent."
3. Enterprises are now providing multi-year guidance
Finally, the third key finding discussed was the ability of enterprises to provide multi-year guidance.
"A lot of enterprise companies would only present three to six months' worth of guidance in terms of where the revenues were going to go and where the profitability was going to be.
"But in the last three months, we have started seeing multi-year guidance, timeframes, and parameters. For example, Cisco historically only guides every other quarter with three months of visibility, and they presented guidance all the way through 2025.
"The big question for me was, how are all these companies, which for the last five to ten years have been unable to give us multi-year guidance, now capable of issuing it? The fundamental change, is enterprises have changed the way that they're communicating their plans.
"They are saying, "I'm going to be shipping a lot of equipment over the next two years, so I need to negotiate a deal. This is going to happen, and I need to have a better price than what you're issuing me right now because I'm giving you this much more business."
Greater visibility clearly demonstrates the industry's prosperity and certainty for continued success.
From what we can see in The Cloud Has Four Walls, the future certainly looks bright.
Watch the full DCD>Talk for a more in-depth look at the market dynamics.