Fifteenfortyseven Critical Systems Realty (1547) and Harrison Street have acquired a carrier hotel in McAllen, Texas.
The two companies have bought Chase Tower in McAllen; the 17-story facility spans more than 209,000 square feet in total. The terms of the deal were not disclosed.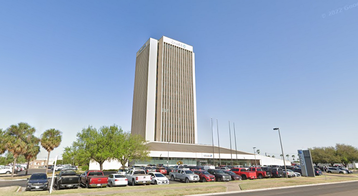 As part of the deal, 1547 and Harrison Street also acquired CarrierCom, a single-location data center provider founded in 1998 and located in the Chase Tower.
The companies' joint venture will own and operate the facility, while 1547 will have immediate colocation and data center inventory in the building with additional availability of conditioned space and power coming online in 2024.
"1547 continues to move forward on its mission to create an ecosystem of highly dense and interconnected data centers in key markets throughout the United States," said J. Todd Raymond, CEO of 1547. "With the purchase of Chase Tower, we are creating the opportunity for our customers to have an access point to do business with Mexico and other Latin American countries via the expansive Texas-based fiber networks."
Built in 1980 and located at 200 S. 10th Street McAllen, the Chase Tower was previously known as the Neuhaus Tower and was built for McAllen State Bank. The McAllen Data Center company also offers space at the facility, which has more than 45 carriers present and two-carrier neutral meet-me-rooms.
Michael Hochanadel, Managing Director and Head of Digital Assets at Harrison Street added: "Today's acquisition of the Chase Tower is an important addition to our connectivity-focused data center platform that includes Pittock Block in Portland, Oregon, and the Wells Building in Milwaukee, Wisconsin."
"Located less than ten miles from the Mexican border, Chase Tower is designed to serve as a gateway for international data transmission and advance our strategy to create data center options in attractive carrier-dense markets. We look forward to continuing to identify strong data center investment opportunities growing our digital footprint to ensure connectivity partners have the capacity they need to serve their customers," Hochanadel continued.
1547 has data centers in Orangeburg, New York; Portland, Oregon; Kapolei, Hawaii; Cheyenne, Wyoming; Milwaukee, Wisconsin; and two in Chicago, Illinois. It has previously partnered with investors such as Valterra Partners, Harrison Street, and CIM Group. The company is planning a 150MW campus outside Philadelphia, Pennsylvania.
Last year Harrison Street partnered with 1547 to acquire the Pittock Block carrier hotel in Portland, Oregon, for $326 million alongside 1547 and acquired CIM Group's stake in four US data centers co-owned with 1547. Harrison and 1547 have completed a number of data center deals together including the Wells Building carrier hotel in Milwaukee, Wisconsin.
Harrison is also working with Lincoln for a campus in New Albany, Ohio, and with American Real Estate Partners in Virginia.