A consortium is planning to build a tidal lagoon in Swansea Bay that will generate renewable power, and include a battery storage system and a battery factory as well as a 100,000 sq ft (94,000 sq m) data center.
The £1.7 billion ($2.3bn) project is being led by power technology firm DST Innovations, and will include a factory to make DST's sodium-based batteries, under the product name Batri. It will be based around a 9.5km wall to create the lagoon, and will also include 150 floating homes, a floating solar farm, a climate research center with park and office space, as well as the data center which will be offered to large tenants.
The project has been approved by Swansea Council and DST says it is fully backed by international investors and rich individuals, whose names will be announced in coming weeks.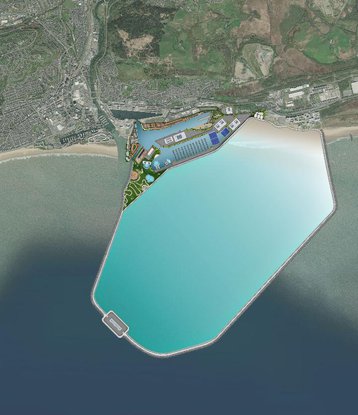 The tide returns
Blue Eden is an evolution of the Dragon Energy Island proposal from 2019, which replaced an earlier tidal lagoon that was rejected by the UK government in 2018. Unlike the rejected proposal, the Blue Eden project needs no government funding, but will be supported by the eventual income from renewable tidal energy. The project, near Prince of Wales Dock in the SA1 area of Swansea, may be the world's first lagoon plant, and the data center would be the first in the UK to have its own on-site 24x7 renewable power source.
"We've already been approached by big names for space in the data center halls because it will be the first in the UK that is connected to an uninterruptible renewable power source," said Joanna Pontin, DST's vice president of marketing."There are a lot of large household names that would like to have that green energy."
DST has not yet said who it will build the data center with: "We've been in discussion with several companies who have done this all over the globe. Green credentials are important for everything that is going to be on site."
The concrete barrier to create the lagoon and the 320MW tidal power station will take 12 years to build. During this time, the other parts of the project will be delivered in three phases, according to DST. The first five years will deliver the battery factory, along with a "battery farm", a facility designed to store energy from renewable sources to make it more useful for the grid.
This phase will also include the data center, and an off-shore floating solar farm, similar to those being tried in Singapore. The waste heat from the data center will be output to a district heating system similar to those common in Nordic and Eastern Europan countries.
A further two years will deliver a climate research center, recreational space, and further floating facilities. And then the final two years of construction will produce floating homes, as well as the completion of the underwater turbines to complete the all-important tidal power station. Including the floating homes, the project will deliver accommodation for 5,000 people. Those buying the new homes will get 20 years of heat and power bundled with the cost, according to the project details published by Swansea Council.
Compared to other renewable energy sources, tidal power is predictable, delivered on a regular lunar cycle with the high and low tides. So with suitable energy storage capacity, it can be more easily integrated into the electric grid.
Founded in 2011 by Welsh entrepreneur Tony Miles, DST is better known in the US, where it provides low-energy lighting and video screen technology, alongside its Batri product.
The 60,000 sq m (645,000 sq ft) battery factory will be DST's first in-house manufacturing plant, having previously had its batteries made by contract manufacturers around the world. Sodium-ion batteries still have a very small market share compared to lithium-ion, but they have some major potential benefits; Sodium is much more abundant than lithium so they could be cheap to make, and sodium-ion batteries should also be safer as sodium is less prone to thermal runaway and catching fire. Sodium-ion batteries currently have a much lower energy density than lithium-ion systems, but this is not a huge issue in large stationary settings such as battery farms (or data centers).
The battery factory is projected to employ 1000 people after the project's completion, and a further 1,500 jobs are expected in the data center and other parts of the scheme.
The project's financial backers are not yet known, but several companies have expressed an interest in supporting the project through power purchase agreements (PPAs) including Land Securities, Cardiff Airport, and developer Berkeley Group.
DST CEO Tony Miles said: "Blue Eden is an opportunity to create a template for the world to follow - utilizing renewable energy and maximizing new technologies and thinking to develop not only a place to live and work, but also to thrive."
Cllr Rob Stewart, Swansea Council Leader, said: "We are aware now more than ever of the need to develop renewable energy supplies to provide sustainable and affordable electricity to families and businesses. I'm delighted that an international consortium led by a Welsh company has developed our Dragon Energy Island vision into a ground-breaking project that delivers so many benefits and builds on the council's ambition to become a net-zero city by 2050."
In a joint statement, Henry Dixon, Chair of the Tidal Range Alliance, and Simon Hamlyn, Chief Executive of the British Hydropower Association, said: "Alongside other schemes along the west coast of the UK, tidal range power generation has the potential to supply 5 to 10 percent of the country's energy needs, reliably and predictably, unlike other intermittent renewables such as wind and solar."
Subject to planning consent, Blue Eden work on-site could start by early 2023.