Solar infrastructure company Pegasus Group Holdings, and microgrid outfit Plus Minus Power have proposed a $3 billion 340MW solar farm south of Kingman, Mohave County, Arizona, powering an off-grid data center.
The firms, which have since merged, describe The Hive as "the largest solar powered data center in the world," and plan to open it this fall, before the end of 2019. They have won support from local politicians to build on a 717-acre site south of Kingman and close to the Griffith Energy facility. However, they appear to have little in the way of a track record, and their online presence amounts to little more than two press releases and a site offering Bitcoin mining.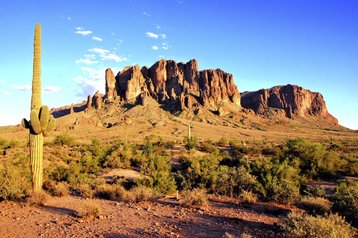 Busy bees
In a June press release, the two companies promised to build The Hive just off Interstate 40, and install a data center built from a network of modified cargo containers, each holding 500 to 1,000 servers. This would consume nearly all the 340MW generated by this solar field, for tasks including cryptocurrency miners, human genome sequencers, movie studios rendering 3D feature films, as well as disaster recovery and data storage services, Pegasus said: "Any remaining power can be transferred into the national or local power grids."
The company has not announced any partners or customers for this large-scale project, which is welcomed by local politicians. The release quotes Mohave County Supervisor Jean Bishop "I am extremely excited to welcome Pegasus Group Holdings to Mohave County, . Pegasus will be locating what is reported to be the largest solar powered data center in the world, in Mohave County's District 4 – the area that I represent."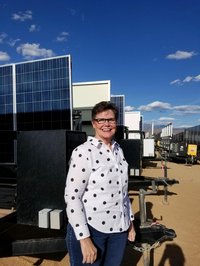 Mohave County's Director of Economic Development, Tami Ursenbach has backed the project, and posted the release on LinkedIn, along with a picture of herself along with some solar panels.
In June, the Mohave Valley Daily News reported that solar panels were arriving on at site of the project, which is located off Interstate 40 which runs through Kingman, and that there is a construction crew working on the facility.
The site that Pegasus is using has been zoned for heavy manufacturing, which would allow the company to build a solar farm and a data center on the property. But, before that the company will still need to submit a site plan, which needs to pass regulatory approvals before constructing the facilities. Jean Bishop, Mohave County supervisor, said that to her knowledge no site plan had been submitted yet.
This week, the two companies have merged. Pegasus has bought Plus Minus Power, which becomes a wholly-owned subsidiary, while Plus Minus president and CEO Dan Briggs, has taken over as CEO of Pegasus Group Holdings.
Both Pegasus Group Holdings and Plus Minus Power seem to be new companies and this massive data center appears to be their first project together. The release describes Pegasus as a "holding company that owns and operates renewable energy based hyperscale data center ecosystems...for a variety of corporate clients", but its site has no further details, holding instead a set of promises about the facility, aimed at Bitcoin miners, and a "coming soon" video posted to YouTube on May 6.
Plus Minus Power seem to only have a presence on LinkedIn, where four employees some with experience in solar power arew listed, all of whom started since late 2018. CEO Dan Briggs' LinkedIn account says he started his premiership at the company in February of this year, while Mike Horan, CTO, joined in March 2019. The company's Linkedin also features a video endorsement from Sarah Ferguson, Duchess of York.
Plus Minus Power says it "owns and builds micro grids for storage solutions" and has proprietary solar generators for IOT deployments.