AdaniConneX, the Adani-EdgeConneX Indian Joint Venture, has set up a new subsidiary as it prepares to develop a data center in Mumbai.
In a filing this week with BSE stock exchange, Adani said AdaniConneX Private Limited, its Joint Venture of the Company with EdgeConneX, has incorporated a wholly-owned subsidiary named Mumbai Data Center Limited.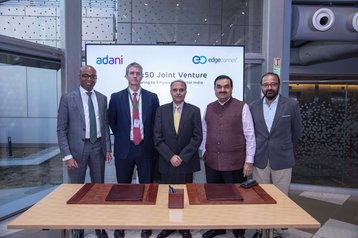 The company said the new unit would develop, operate, maintain, deal with data centers, provide services, and undertake activities associated with infrastructure development including land acquisition & development.
Adani and EdgeConneX formed AdaniConneX in February 2021 with the goal to develop 1GW of data center capacity over the next 10 years. The companies said the JV would develop hyperscale data centers across India, starting with the Chennai, Navi Mumbai, Noida, Vizag, and Hyderabad markets.
Since the formation of the JV, Adani has acquired land in Noida, set up a new subsidiary for a data center park in Vizag, and signed a data center MoU with the Tamil Nadu Government. The company is also building a data center for local eCommerce giant Flipkart. Despite saying development work was already underway when the JV was announced, it's unclear if any of the facilities have come online.
Last month, Business Standard reported, per MSME and export promotion minister Sidharth Nath Singh, that Adani was investing more than Rs 4,600 crore ($616m) in two data center projects in Uttar Pradesh, in Noida sectors 62 and 80.
In response to the news, Adani said: "We do not comment on media speculation or rumors as its inappropriate to do so."
In December 2021 Adani set up a wholly-owned subsidiary named Adani Data Networks Limited (ADNL) that will provide domestic and international network connectivity services. In the filing announcing the news the company said the new unit would 'invest in groundup development and targeted acquisition of optical fiber infrastructure, deploy optical transmission networks spanning selected intra-city and inter-city routes and develop/co-develop submarine cable systems from east and west coast of India.'
At the same time, CapitaLand, which last year acquired land for a data center in Navi Mumbai, plans to invest around US$1.15 billion in developing data centers across the country.
"We are looking at investing S$1.5-2 billion (Rs 8,300-11,100 crore) over the next 5-6 years in India, with plans to expand into all 5-6 major metros in the country," Sanjeev Dasgupta, CEO of CapitaLand subsidiary Ascendas India Trust, told ETCIO.
Dasgupta said CapitaLand, which has been a real estate firm, doesn't want to stick to just land acquisition in India and would rather act as a full-fledged data center operator in the country.
"Right from sales and marketing to business development to design and operations and management, we've created all colocation and operating capabilities in India. We are rapidly scaling up the team here," Dasgupta said.
More in Construction & Site Selection
More in The Data Center Construction Channel