Africa Data Centres (ADC) is set to begin work on a new data center in Accra, Ghana.
The company this week announced that it will shortly start construction on its newly acquired land in the Central Business District of the capital city.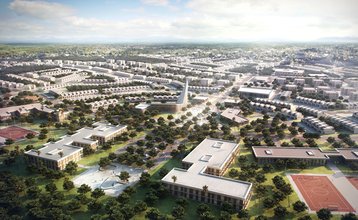 The facility has been designed for an initial 10MW, which can expand to 30MW, and is partially funded by the United States government's International Development Finance Corporation (DFC).
Located in the Ghana Trade Fair Redevelopment Project at La in La Dade Kotopon Municipal District, the first phase is scheduled to be completed within 12 months.
ADC first announced plans for a Ghana data center in June 2022 but provided few details at the time. The size of the plot and the acquisition cost were not shared.
Set on more than 125 acres, the Ghana Trade Fair Center site was previously a large fairground constructed in the 1960s. In 2019 the Ghana Trade Fair Company and Stellar Holding Pte signed an agreement to develop a new commercial park on the site.
"Our new data center in Ghana is a significant step towards Africa Data Centres' goal of narrowing the digital divide in the West Africa region," said Tesh Durvasula, CEO of Africa Data Centres. "Hyperscale data centers, preferred by major US tech companies, multinational corporations, banks, and other local enterprises, are the specialty of Africa Data Centres. Additionally, our data centers are supported with independent solar and battery storage power, enabling us to bring digital technologies whilst mitigating our environmental impact."
The Accra data center is part of ADC's continental expansion plans spanning 10 markets across the continent, including South Africa, Zambia, Kenya, Rwanda, Egypt, Morocco, Senegal, Ivory Coast, and Angola.
Scott Nathan, CEO of the US International Development Finance Corporation (DFC), said: "DFC is proud to support African Data Centres. This new facility in Accra will be an investment in critical infrastructure helping to better link the rapidly growing African population and market to global opportunities. DFC's commitment to strengthen ICT infrastructure in West Africa is in keeping with the commitments President Biden made to mobilize private capital for the kind of high-quality global infrastructure investments that improve people's lives."
ADC has or is developing data centers in Nairobi, Kenya; Lagos, Nigeria; Accra, Ghana; and Lomé, Togo. It also has South African facilities in Johannesburg in the Samrand and Midrand areas of the city.
This year has seen the company announce plans for its first data center in Kigali, Rwanda, and break ground on an expansion in Nairobi as well as a data center in Cape Town, South Africa.
"We continue to bring internationally recognized services and products through Liquid Intelligent Technologies and Africa Data Centres. Liquid already has the largest cross-border fiber network in Africa, and our data center footprint expansion complements this, enabling faster digital transformation on the continent," says Hardy Pemhiwa, Group CEO for Liquid Intelligent Technologies.
PAIX Data Centres, Equinix-owned MaineOne, and Onix Data Centres operate data centers in Accra. Logistics real estate firm Agility recently announced plans for a 30MW facility – expandable to 150MW – in the Tema area of the city.
More in Construction & Site Selection