Two US AI chip startups have raised hundreds of millions in new funding rounds.
SambaNova brought in $676 million in its Series D round, primarily led by the SoftBank Vision Fund 2, in a deal that values the company at $5bn.
Rival startup Groq raised $300m, in a round co-led by Tiger Global Management and D1 Capital, valuing the company at more than $1bn.
For breaking data center news, features, and opinions, subscribe to DCD's newsletter
Because memory bottlenecks are limiting AI's growth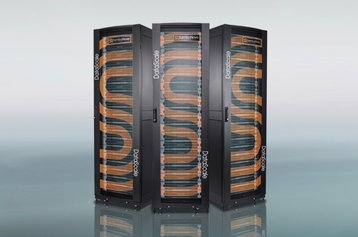 SambaNova has its own AI chip called Cardinal, but does not sell it directly.
Instead, it packages Cardinal up as part of its DataFlow server architecture, and then bundles that together into an 8U system known as DataScale. This, the company says, allows for the overall system to avoid memory bottlenecks that hold back conventional AI systems.
DataScale can then be bought, or installed on-premises and paid for as-a-service. It's not clear how many customers SambaNova has, but it is currently being tested by the Department of Energy.
Along with SoftBank, new investors Temasek and GIC also joined the round, along with existing backers BlackRock, Intel Capital, GV (formerly Google Ventures), Walden International, and WRVI.
The deal makes SambaNova one of the world's most valuable AI hardware companies, putting it at roughly double the value of industry darling Graphcore.
Groq, meanwhile, is valued at a little over a billion. The company was co-founded in 2016 by Jonathan Ross, who previously helped lead Google's Tensor Processing Unit development.
The startup's tensor streaming processors are also designed specifically for AI workloads, with a simpler architecture than CPUs and GPUs.
"AI is limited by existing systems, many of which are being followed or incrementally improved upon by new entrants," Ross said.
"No matter how much money you throw at the problem, legacy architectures like GPUs and CPUs struggle to keep up with the growing demands of artificial intelligence and machine learning."
Joining Tiger and D1 are investors The Spruce House Partnership, Addition, GCM Grosvenor, Xⁿ, Firebolt Ventures, General Global Capital, and Tru Arrow Partners, as well as follow-on investments from TDK Ventures, XTX Ventures, Boardman Bay Capital Management, and Infinitum Partners.
"We are excited to partner with Groq as they continue building a world-class AI chip that is uniquely capable of addressing both inference and training applications," said Scott Shleifer, partner at Tiger Global Management. "We were impressed by Groq's software-first approach, innovative architecture, and focus on customer success."
The chip is currently available on Nimbix Cloud, and sold as a standalone 'Groq node' featuring eight Groq cards in a single chassis. The 5U node delivers six petaops (not flops) of performance at 3.3kW of power consumption, the company claimed.