Airbus subsidiary Aalto HAPS has signed a contract with Japan's Space Compass Corporation for a proof of concept (PoC) demonstration flight of its stratospheric drone platform.
Set to happen in 2023, Aalto will fly its high altitude pseudo satellite (HAPS) Zephyr Z8B aircraft equipped with mobile communications to provide a solar-powered 'tower in the sky.' Further PoC flights are planned for 2024, with a commercial launch expected at the end of the same year.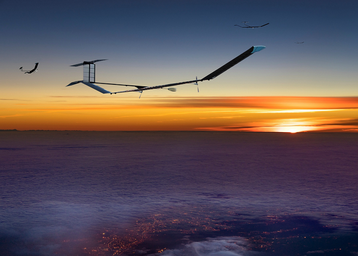 The Zephyr will be able to provide 4G/5G mobile connectivity to rural and under-served areas, or when connectivity is temporarily down.
Developed by Airbus and spun off into a separate company earlier this year, Aalto's Zephyr conducted a successful 64-day flight last year before failing when the HAPS dipped below its standard altitude of 70,000 ft. This latest PoC flight is expected to challenge that previous record.
Space Compass, a joint venture between NTT and SKY Perfect JSAT, has signed a contract with Aalto to work on a communications and earth observation service using HAPS starting in Japan as part of Space Compass' "Space Integrated Computing Network."
Airbus, NTT, DOCOMO, and SKY Perfect JSAT previously teamed up to jointly study connectivity services from HAPS in January 2022.
The Space Integrated Computing Network is proposed to include a variety of space-based ICT infrastructure, using GEO stationary satellites, LEO satellites, HAPS, Earth stations, and a data center in space.
As part of the company's 'Space Integrated Computing Network,' Space Compass and space communication infrastructure developer Skyloom announced plans to launch a GEO data relay service over Asia in 2024, to be expanded globally by 2026. The system will use optical/laser communications terminals and enable GEO satellite direct-to-cloud transfers of data.
Earlier this month, Space Compass entered into an alliance with Axelspace Corporation to allow the latter to use Space Compass' data relay services for Axelspace's high-resolution Earth observation platform.
Also part of the computing network project, NTT and Sky Perfect announced in 2021 that they planned to launch a data center into space in 2025.