AirTrunk today announced plans to build a new data center in Sydney that at 320MW, will be the largest single hyperscale campus in the Asia Pacific (APAC) outside of China when fully operational.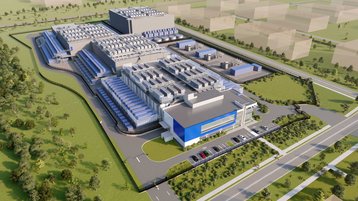 The new SYD3 data center will be located in western Sydney, less than a kilometer from AirTrunk's first SYD1 hyperscale facility, and will be built-up over nine phases and span 8.3 hectares. It will be served by an onsite 132KV substation and will be designed to minimize carbon impact with a PUE of 1.15. AirTrunk touts SYD1 and SYD3 as its "Western Sydney Region", which will offer over 450MW in total.
"It's an exciting day as we circle back to Western Sydney where it all began for AirTrunk when we launched our flagship SYD1 data center in late 2017. With SYD1 nearing full capacity, SYD3's location less than one kilometer away, will help our major technology customers scale with ease and create synergies and efficiencies between the connected campuses," said AirTrunk founder and CEO Robin Khuda.
Since the launch of its first facility in 2017, AirTrunk has expanded its footprint in cities across APAC.
Last year, AirTrunk announced plans for a 300MW hyperscale campus in Japan. With 42 data halls, it will be built by Japanese construction conglomerate Daiwa House Industry which will also take a stake in the project.
Including the newly announced SYD3, AirTrunk now has a total of seven data centers in operation or under construction; Outside Australia and Japan, it has buildings in Singapore and Hong Kong. AirTrunk's data centers will have a combined power capacity of more than a gigawatt when all facilities reach full capacity.
Earlier this year, it launched the 110MW SYD2 data center in north Sydney.