Chinese e-commerce giant and cloud provider Alibaba has made a pre-commitment order to take full capacity of GDS' Beijing 3 data center.
The carrier-neutral data center operator's facility is currently under construction, and will have 4,260 sq m (45,854 sq ft) of technical space when it opens in the first half of 2018.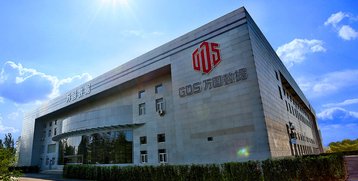 An existing partnership
"We are pleased to announce this new pre-commitment by Alibaba, one of our most important strategic partners," William Huang, GDS chairman and CEO, said.
"The Beijing 3 site is adjacent to our Beijing 1 data center where Alibaba already occupies a substantial part of the total area. It is an ideal expansion location for Alibaba's growing capacity needs. With the enormous demand created by China's rapid cloud adoption, now more than ever, our clients depend on us to provide a steady supply of high-performance data center resources to fulfill their requirements."
GDS says that it has a total of 46,000 sq m (495,139 sq ft) of white space currently in service, with plans to add another 41,000 sq m (441,320 sq ft).
The Shanghai-based company made $127 million in sales in the past financial year, mostly from its core operations in Beijing, Shanghai and Shenzhen.
In 2012, GDS partnered with Softbank China Venture Capital to develop a vCloud cloud service based on VMware platform, and then Elastic Cloud Computing (ECP) platform. The next year it announced plans to invest $200 million in two Hong Kong facilities.
In 2015, GDS rolled out services to suit Chinese customers expanding abroad, presenting its CloudMix service at Interop in Las Vegas.