Aligned has announced a large-scale expansion of its footprint in Phoenix, Arizona, with plans for two new campuses.
The company this week announced two new land acquisitions totaling approximately two million square feet (185,800 sqm) and potentially offering more than 400MW of IT load.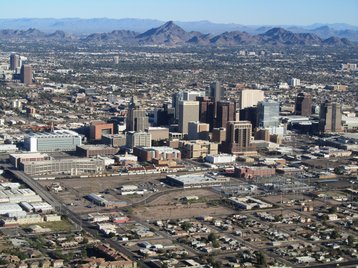 Details about the specifications, locations, or timelines of either campus were not shared.
"Aligned is focused on meeting the capacity demands of our customers today, while constantly innovating across every aspect of our business to ensure their future data center requirements will be met long-term," said Andrew Schaap, CEO of Aligned. "Our expansion in greater Phoenix is an example of Aligned's power-first approach to asset procurement as well as strategic investments across our design and construction, supply chain, and vendor-managed inventory program, and team to deliver capacity at maximum speed and scale."
The company said its new Phoenix campuses will include patented Delta³ cooling technology with a waterless heat rejection system.
Opened in 2017 and expanded in 2018, Aligned's existing 55-acre Phoenix campus at 2500 W Union Hills Drive has room for 550,000 sq ft of data center and 180MW of capacity.
In March the company announced the planned development of PHX-05, a greenfield build-to-suit deployment, at the campus. Aligned didn't share specifications, but said the facility would be built to an 'aggressive timeline'.
2022 has seen Aligned announce plans for new developments in Sterling, Virginia; Plano, Texas; and Salt Lake City, Utah; buy land at Quantum Loophole's gigawatt campus in Maryland; and complete projects in Chicago, Illinois, and Salt Lake City.
Earlier this year, the company extended its sustainability-linked loan by more than $1 billion.
More in Construction & Site Selection