US operator Aligned Data Centers has invested in Canadian firm QScale.
QScale said that the "strategic investment" was joined by "strong support" from existing shareholders.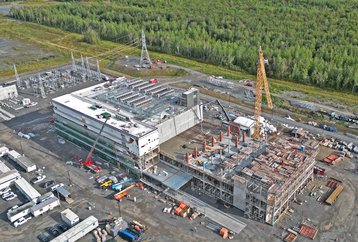 The size of the investment wasn't shared – though is described as a "major financing round" – and is expected to close in Q2 2023, subject to regulatory approval.
The company said the new investment will enable QScale to 'rapidly accelerate its development of high-density data centers' across Québec, and will use the proceeds to develop future phases of its flagship Q01 facility as well as the development of other campuses in the future.
Aligned, which counts Macquarie Asset Management-managed funds as its majority owner, was described by QScale as a 'complementary operating partner that strongly supports QScale's vision'.
"We are delighted to welcome Aligned as a strategic partner and investor, supporting our mission to become a foremost sustainable digital infrastructure leader in Québec," said Martin Bouchard, CEO of QScale. "This financing will enable us to accelerate our growth strategy and broaden our world-class high-density computing centers throughout the province, fostering skilled job opportunities and spurring economic development in local communities."
Aligned CEO Andrew Schaap, added: "Our investment in QScale is a perfect example of our future-proof approach to expansion, and we are excited to partner with the company to accelerate its growth strategy to build leading sustainability-focused HPC ecosystems."
QScale was founded in 2018 by Vincent Thibault, Dany Perron, and Martin Bouchard, and is designed for intensive workloads such as HPC, machine learning, and artificial intelligence. Bouchard previously founded software company Copernic as well as 4Degrés data centers, which was sold to Videotron in 2015 before Vantage bought the facilities in 2019.
Construction started on the company's first campus (known as QScale Q01) in Lévis in 2021, with the first phase of delivery scheduled for November 2022. Phase 1 offers 12MW across 40,000 sq ft, while Phase 2 – which broke ground in September 2022 – will double the footprint. At full build-out across eight phases, the site will offer 98MW across 320,000 sq ft. A heat recovery system is being developed in partnership with energy firm Énergir.
The company is planning a second facility in the Ecoparc de Saint-Bruno-de-Montarville, Montreal, in the future. QScale plans to place greenhouses on its campuses and use the excess heat for agriculture.
Existing QScale investors include the government of Québec through Investissement Québec, and Desjardins Capital.
Houlihan Lokey and Scotiabank are acting as financial advisors, Desjardins Capital Markets is acting as special advisor, and Fasken Martineau DuMoulin LLP is acting as legal counsel to QScale for this latest investment. TD Securities is acting as financial advisor, while McCarthy Tétrault LLP and Latham & Watkins are acting as legal counsel to Aligned.
US based-Aligned has traditionally focused on data centers in its home market, but the company acquired Brazilian firm Odata from private equity firm Patria Investments late last year. Odata offers colocation services from three data centers in Brazil and one each in Colombia and Mexico. The company has started construction on a facility in Chile, is developing a new building in Rio de Janeiro, and is expanding its campus in Sao Paulo.