Amazon is quietly lobbying against a bill that would require data centers and crypto miners to slowly shift to clean energy.
The Oregonian reports that the company has been actively trying to stymie a House Bill designed to reduce the emissions of data center electricity use.
House Bill 2816 would require large data centers to reduce the emissions of their electricity use by 60 percent below baseline emissions levels by 2027, 80 percent below baseline emissions levels by 2030, 90 percent below baseline emissions levels by 2035, and 100 percent below baseline emissions levels by 2040.
Failure to comply would result in a penalty of $12,000 per megawatt-hour of violation per day, as well as tax breaks being withheld.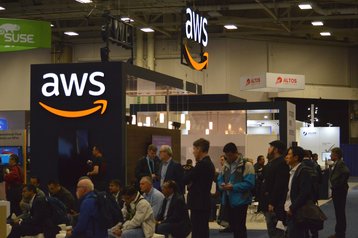 "There is no question that Amazon was lobbying against this bill from the very first moment," Rep. Pam Marsh, D-Ashland, one of the bill's sponsors, told The Oregonian. Amazon's representatives were very active in Salem this winter, she said, campaigning hard against the bill in lawmakers' offices.
The company has retained Oxley & Associates for lobbying services in the state.
Marsh said that she did not believe other data center companies have lobbied for or against the bill. Apple and Facebook have helped fund renewable projects to cover the energy use of their Oregon data centers, while Amazon's data centers in Morrow and Umatilla appear to be relying on the fossil-fuel-based grid.
The company plans to move to natural gas fuel cells for some of its data centers.
The tech giant's fuel cells will be the primary source of electricity for three Amazon data centers and emit the equivalent of 250,000 tons of carbon dioxide annually, as they are powered by fossil fuel, according to the Oregon Department of Environmental Quality (ODEQ).
Given the "vehemence" of Amazon's lobbying and the fact that it had yet to make any major clean energy steps in the state, Marsh said she doubts whether Amazon has "any intention of actually seeking renewable energy goals."
Republican Rep. Bobby Levy defended Amazon's lobbying. "Amazon, as you can imagine, is very concerned when we start targeting end users of electricity," she said.
Industry group The Technology Association of Oregon is also against the bill. TAO, which includes AWS as a member (along with Google and Facebook), said that HB 2816 "targets data centers in eastern Oregon."
The Portland area already has strict emissions regulations, transitioning to clean energy on the same 17-year timeline. But eastern Oregon was exempted because it primarily relied on federal hydropower. Data centers have exceeded that capacity, however, leading to utilities buying power on the primarily fossil fuel-based open market.
"Oregon tech companies do not control the decisions their energy utilities make," TAO's Rachael Wiggins Emory said at a hearing over the bill. "This bill penalizes tech companies for decisions outside their control."
The bill is set to be voted on this Monday (April 3), but Marsh admitted that she might pull the bill if it doesn't have enough support. If so, she plans to submit a version of it again in next year's session.
AWS told DCD in a statement: "Amazon is taking real, tangible, short and long-term measures to combat climate change, and as the world's largest corporate purchaser of renewable energy, we are on a path to powering our operations with 100 percent renewable energy by 2025 — five years ahead of our original commitment. A number of organizations, including Amazon, oppose HB2816 because the bill does not address the build-out of electric infrastructure that is needed to bring more clean energy to the grid.
"Building new renewable projects requires infrastructure investments in the grid and today there are hurdles in key areas like permitting and interconnection. Accelerating energy infrastructure permitting and interconnections for renewables like solar and wind would have a greater impact on reducing emissions, bringing more clean energy to the grid, and helping achieve our goal of accessing more clean energy in Oregon. We look forward to working with the State, industry, and community leaders to better enable renewable energy development in Oregon."