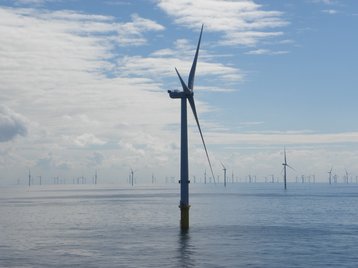 Through their joint venture CrossWind, Shell and Eneco are currently installing 69 giant Siemens Gamesa SG 11.0-200 DD wind turbines 18.5 kilometers (11.5 miles) off of the Dutch coast.
The offshore wind farm will also include five technology demonstrations, Crosswind said. "These include a floating solar park, short-term battery storage, optimally tuned turbines, and 'green hydrogen' made by electrolysis as a further storage technique.
"In addition, this project offers the opportunity to demonstrate the combination of these measures to ensure a continuous power supply regardless of wind conditions."
Amazon said that the renewable power will be used to offset the energy consumption of its European operations. The company plans to be 100 percent renewably powered by 2025, via power purchase agreements. By 2040 it hopes to be responsible for net-zero carbon emissions.
"Amazon has a clear climate ambition and we are proud to contribute to this goal by delivering renewable energy generated by the offshore wind farm Hollandse Kust Noord," Kees-Jan Rameau, chief strategic growth officer at Eneco, said.