Amazon plans to launch a vast satellite network to provide Internet services to unconnected or poorly connected communities.
In filings, found by GeekWire, and subsequently confirmed by Amazon, Project Kuiper reveals aspirations for a 3,236 satellite constellation, with 784 satellites orbiting at an altitude of 367 miles (590km), 1,296 satellites at 379 miles (610km), and 1,156 satellites at 391 miles (630km).
LEO is about to get a lot more crowded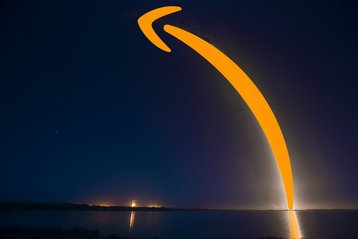 Amazon's space ambitions predate Kuiper - after AWS job listings last year described "a big, audacious space project" that "will have a historic impact," the company announced it would partner with Iridium Communications to offer satellite cloud-based IoT solutions.
Later that year, it revealed AWS Ground Station, which aims to build a global network of 12 ground stations "in close proximity to our global network of AWS infrastructure regions," built in a joint partnership with defense contractor Lockheed Martin.
Outside of Amazon, the company's CEO and founder, Jeff Bezos, is the owner of Blue Origin, a rocket company that last year won a $500 million defense contract to help send US Air Force payloads into orbit.
Details on Kuiper remain limited, particularly with regards to when the system is expected to be rolled out. "Project Kuiper is a new initiative to launch a constellation of low Earth orbit satellites that will provide low-latency, high-speed broadband connectivity to unserved and underserved communities around the world," an Amazon spokesperson said.
"This is a long-term project that envisions serving tens of millions of people who lack basic access to broadband Internet. We look forward to partnering on this initiative with companies that share this common vision."
The satellites aim to cover spots on Earth ranging in latitude from 56 degrees north to 56 degrees south, which includes roughly 95 percent of the world's population.
Should the project go ahead, however, it will face fierce competition from a host of rival businesses competing to serve Internet from Low Earth Orbit.
SpaceX has already launched two prototype satellites for its Starlink constellation, which could expand to more than 12,000 satellites - with founder and CEO Elon Musk claiming the service would fund his plans to colonize Mars.
SoftBank-backed OneWeb wants at least 720 Low Earth Orbit (LEO) satellites in space, having already launched six. Canada's Telesat is also looking to get in on LEO Internet services, as does the LeoSat project.
Then there's Loon, Alphabet's plan to build a network of stratospheric balloons, and stilted efforts by Facebook - which invested in giant drones, but now is also working on a satellite constellation.