Revenues of cloud giant AWS grew 32 percent year-over-year, hitting $13.5 billion, which accounted for 12.5 percent of Amazon's revenue.
Amazon Web Services made $4.16bn in profit this quarter, helping bolster Amazon's wider business - which was also very profitable.
The winner of the pandemic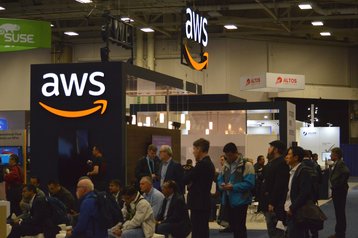 Amazon CFO Brian Olsavsky said that "during Covid, we've seen many enterprises decide that they no longer want to manage their own technology infrastructure. They see that partnering with AWS and moving to the cloud gives them better cost, better capability and better speed of innovation. We expect this trend to continue as we move into the post-pandemic recovery."
Amazon cloud's growth was slightly ahead of the 28 percent y-o-y jump it saw last quarter.
On a percentage basis, it was less than the 50 percent growth Microsoft Azure posted. But AWS is about 60 percent larger according to Synergy, so it is expanding from a larger base.
"Amazon and Microsoft have earned their leadership positions as they focus aggressively on growing their cloud services, quarter after quarter, year after year. They continue to invest billions of dollars every quarter in expanding their global data center footprint, while at the same time enhancing their cloud service portfolios," said John Dinsdale, a chief analyst at Synergy.
"These two don't have to spend too much time looking in their rearview mirrors and worrying about the competition. However, that is not to say that there aren't some excellent opportunities for other players."
Third place cloud company Google posted $4bn in revenue this quarter - less than AWS made in pure profit - and said that it had lost $974m.
"In just 15 years, AWS has become a $54 billion annual sales run rate business competing against the world's largest technology companies, and its growth is accelerating," Jeff Bezos, Amazon's founder and CEO, said in a statement.
Bezos is set to step down as chief executive later this year, with AWS head Andy Jassy taking over.