AMD has donated five petaflops of compute to 21 institutions and research facilities conducting Covid-19 research.
The company is providing Penguin-On-Demand cloud-based clusters, featuring 2nd Gen Epyc and Radeon Instinct processors, as part of the wider Covid-19 HPC Consortium.
The Penguin Computing clusters are colocated in data center space donated by DataBank.
Here's hoping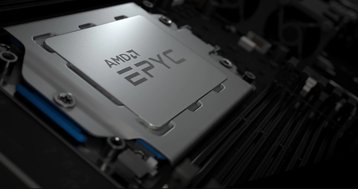 "AMD is proud to be working with leading global research institutions to bring the power of high performance computing technology to the fight against the coronavirus pandemic," said Mark Papermaster, EVP and CTO of AMD.
"These donations of AMD EPYC and Radeon Instinct processors will help researchers not only deepen their understanding of Covid-19, but also help improve our ability to respond to future potential threats to global health."
The systems are expected to be operational starting in Q4 of this year, and join a previous seven petaflops donated by AMD earlier this year.
Together, the 12 petaflops will be available to: Cambridge University, Carnegie Mellon, GENCI / French National High-Performance Computing Agency, Harvard Children's Hospital, High Performance Computing Center (HLRS) / the University of Stuttgart, MIT, NYU, CSIR Fourth Paradigm Institute in India, Leibniz Supercomputing Centre (LRZ), Rice, Stanford School of Medicine, Texas State University, The University of British Columbia, The University of Texas at Austin, UCLA, University of Arkansas, University of Toronto, University of Trento, University of Vermont, Virginia Commonwealth University, and Washington University.
AMD will also start a working group for its HPC fund recipients and AMD engineers to jointly discuss research areas and findings, as well as help fine-tune hardware and software.
"We are very grateful to receive AMD's donation of high performance servers," said Dr. Jeremy Goldhaber-Fiebert, associate professor of medicine and core faculty member of Stanford Health Policy.
"The diverse evolution of Covid-19 epidemics in various parts of the world raises numerous, time-critical, location-specific, policy-relevant questions. Computational power like that provided by AMD allows our team to attempt to answer such questions more quickly, more deeply, and for more places."
The broader Covid-19 HPC Consortium now features more than 600 petaflops of compute from many of the world's fastest supercomputers. For the latest issue of the DCD Magazine, we profiled the consortium, talking to the HPC experts, scientists, and government officials that together are fighting the coronavirus.